Jinx Proof Tattoos
3285 1/2 M St. NW
Washington DC
Phone: (202) 337-5469
I never thought of myself as the tattoo type, but since tattoos are very much a part of DC culture, I found myself pondering one day: "If I were to get a tattoo, what would it be?" This evolved into me thinking about this aloud, and eventually evolved into Marya and I deciding we'd buy each other tattoos for our 5th anniversary together.
Jinx Proof came recommended to me by an employee of the DC vegan bakery
Sticky Fingers
. He mentioned that he'd gotten many tattoos there and felt they were quite vegan friendly.
Many tattoo inks are suspended in animal based glycerin. Some ink sets are suspended in vegetable based glycerin, but not all colors in the set are always vegan - black might be the product of bone char.
The guy behind the counter at Jinx Proof told us that, unlike many other tattoo parlors, they will be honest with you with regards to which specific inks are vegan. We appreciated that. It's important to always ask.
There is one artist at Jinx Proof who uses vegan ink, and we ended up coming on a day he wasn't working. Thankfully the shop folks worked with us, raided the vegan artist's ink cabinet (with his permission via phone), and were able to give us our tattoos that day.
Marya got the
Vegan Society
's logo: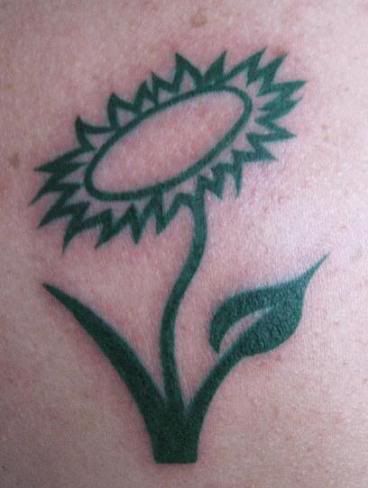 Cautious lawyer that she is - she checked with the Vegan Society beforehand and got permission to use their copyrighted artwork. Awesome tat, isn't it?
And, showing my love for my city, I got the DC flag: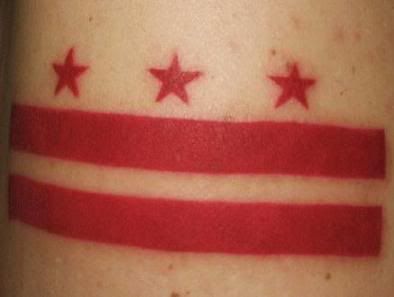 I made a point of getting the flag in its correct dimensions. I
did not
check with the DC government if it's okay that I use their logo, but the DC flag is tattooed on many a folk in DC.
This was my first experience getting a tattoo. I now know that it's just like having someone draw on you...with a sewing machine.