More fun stuff we made at home. On one hand, I feel silly for continuously snapping pictures of many of our meals. On the other, I'm constantly asked what, as vegans, our typical weekly meals are like, and I like showing that we eat such a rich variety of things.
Slightly different format, since there are so many pictures to get in this post.
Please click on an image to view it full-size
First, some raw dishes:
| | |
| --- | --- |
| Raw Saag Paneer | Gazpacho |
The saag paneer was served on raw sprouted red quinoa.
The gazpacho had a yellow beet and yellow heirloom tomato in it. This is a Summer fave of ours.
Next, some low carb dishes:
| | |
| --- | --- |
| Pesto on Zucchini and Squash Noodles | Eggplant Lasagna |
In an effort to cut down a bit on all the carbs, Marya made these two dishes substituting the linguine with zucchini and lasagna pasta with eggplant slices.
And some not-so-low carb dishes:
| | |
| --- | --- |
| Fennel and Olive Tapenade on Pasta | Stuffed Poblano Peppers on Wild Rice |
Finally we were able to get fennel from the farmers' market for Marya to make this pesto.
My stuffed poblano recipe was completely improvised.
Some sausage dishes:
| | |
| --- | --- |
| Italian Sausage! | Currywurst |
Hot Dogs!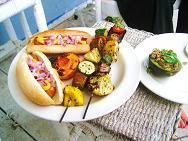 I made sausage! The recipe came from a cookbook I got at a 7th Day Adventist International Food Festival in Washington DC. If you want the book, it's available
here
.
After having experienced vegan currywurst at
Kopfeck's in Munich
, I wanted to make it for myself. I veganized a conventional menu - that is, I used Tofurky beer brats for the sausages. I really liked how it turned out.
The hot dogs were made in July to celebrate National Hot Dog Month. Nothing special, but don't they look good? Lovely avocado salad on the side.
Dishes with Really Long Names:
| | |
| --- | --- |
| Vivid Beat and Horseradish Gnocchi | Arugula and Peach Salad on Parsley Shortcake served with Baked Coconut Tofu Cutlets |
Fun things with Farmers' Market Fruit:
| | |
| --- | --- |
| Crepes | Watermelon Martinis |
Having learned of the great health benefits of eating
blueberries
and
watermelon
, we were determined to incorporate more of them into our diet, by any means necessary.
And some desserts!:
| | |
| --- | --- |
| Flan | Chocolate Pudding |
The flan came from Terry Hope Romero's "Viva Vegan". Egg free! But far from sugar free.
Marya found this recipe for raw chocolate pudding has avocado as a base. And, of course, was made with fair trade chocolate. Whipped cream and sprinkles not verified to be raw.