(picture of the building graciously stolen from Elizabeth's website
until I manage to get my own shot)
Elizabeth's Gone Raw
1341 L Street, NW
Washington, DC 20005
Phone: (202) 347-8347
Welcome to my 50th post! And what better way to celebrate than to profile DC's first raw vegan restaurant. I should start by saying Elizabeth's Gone Raw is not a full-time restaurant. It is the outgrowth of Elizabeth's on L catering business, which is
not
a vegan catering establishment and they do not have a dedicated vegan kitchen. Elizabeth's Gone Raw is an "occasional" restaurant that will open their doors to the public about once a month.
Proprietor Elizabeth Petty's inspiration for the raw restaurant arm of her business when she was diagnosed in 2009 with cancer. She chose to integrate natural healing methods including exercise and raw vegan food with the traditional methods of chemo and such. Now she's able to combine her passion for raw food and her talents to share the joys of raw food with DC.
When we walked in, Marya noted that it felt like an exclusive supper club. For vegans. Since it seems Elizabeth's is getting much of its advertising by word-of-mouth, we felt as if we'd been let in on one of DC's best kept secrets.
The fixed 5 course menu is $65. For $85 you get the biodynamic wine pairing. They'll tell you you'll get a 3 ounce pour of each wine, but the pours were way more generous than that. I should add that the menu changes monthly, but below is what was served on our visit in August.
(please click on the image to see it full-size)
We first started off with dehydrated kale chips with nutritional yeast topping: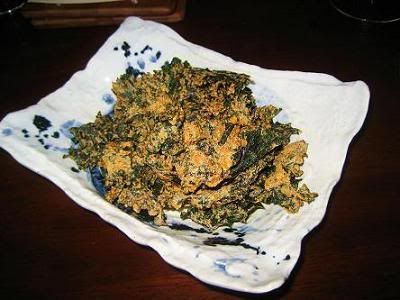 Kale chips are getting popular as I've been to at least two other restaurants that served these. But the addition of nutritional yeast was a nice touch. They're a healthy and delicious alternative to potato chips (which I was never really fond of anyway).
The first dish was this "Summer Salad of Heirloom Tomatoes and Avocado with Chervil and Citrus Vinaigrette":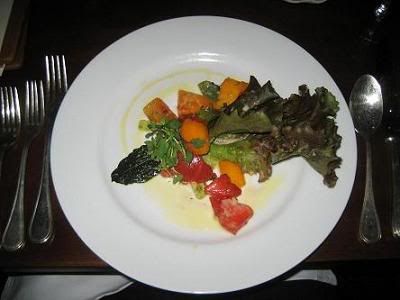 Chervil is similar to parsley, by the way. Had to look it up, myself.
Second course: "Flax Seed and Hemp Flatbread with Zucchini Hummus, Shaved Fennel, Kalamata Olives and Basil Oil"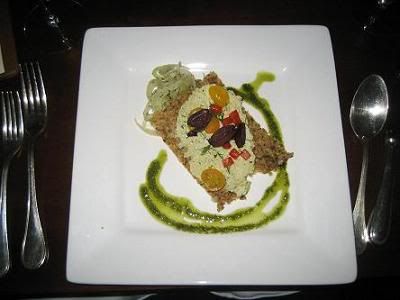 There's something neat about raw bread - it's not made from wheat, but nuts or seeds, and is significantly healthier. In this case, a fine blend of hemp and flax seeds that surely gave us our daily dose of Omega-3. And it was a lovely base for the hummus.
Next came the Watermelon Sorbet: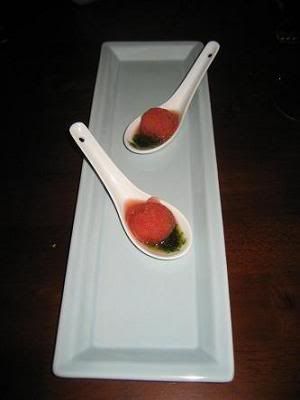 Served with a bit of basil oil. We read
this article
recently that discussed many of the surprising benefits of watermelon. One benefit not mention is that watermelon is considered "nature's viagra".
The main entree was this "Thai Noodle Salad with Coconut Milk, Cilantro, Green Papaya and Spiced Cashews served with Chili Paste":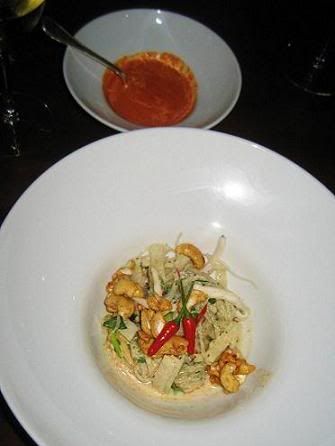 This was fantastic, but those tiny red peppers were downright painful. Also, they served the chili paste on the side in what seemed a full soup bowl.
And the dessert, "Key Lime Tart with Creme Fraiche":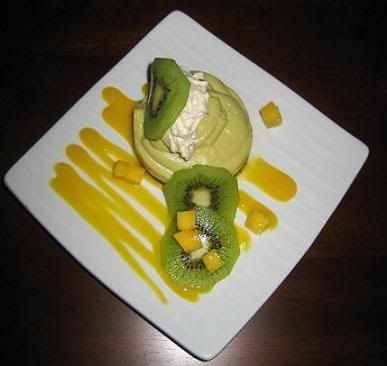 I should mention that you will want to make reservations well in advance for Elizabeth's. As it gains attention, it will likely gain a loyal following of people who will make a point to come monthly.