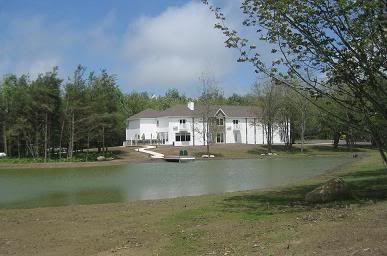 Minty Wellness
1961 Church Rd
Darien Center, NY 14040
Once a year or so we'll go up to visit Marya's grandmother in Attica, New York. She's 100 years old, and attributes her longevity to little exercise, drinking little water, and eating loads of ice cream. I guess for some, good health can be attributed to genetics. For the rest of us, there's veganism.
Attica is far from the most vegan friendly town. The local grocery has plenty to keep us fed during our visits, but when relatives want to go out to any of the few restaurants in town, the salad bar is our only option.
We were excited to learn that a scant 4 miles outside of Attica, a new vegan hotel and spa has opened recently: Minty Wellness. We didn't think we'd be able to check the place out this trip as we didn't think we could convince other family members to go. But after we talked about it so much, Marya's still adventurous grandmother said "Let's go to the vegetarian restaurant!" We were happy to oblige. Because the place also features many gluten free items, this worked out well for Marya's uncle (seriously, his name is Harry Potter), who has a serious gluten sensitivity. We were thrilled to be able to take 3 other family members to this vegan restaurant, especially considering they're far from being vegetarian.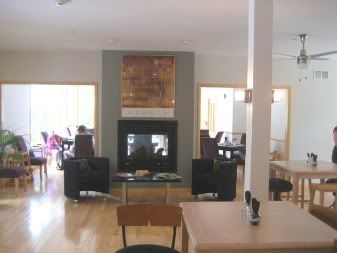 Above is a picture of the extended dining room that adjoins the lobby of the hotel. Here's a pic of the main dining room, and you can see the lovely patio just outside: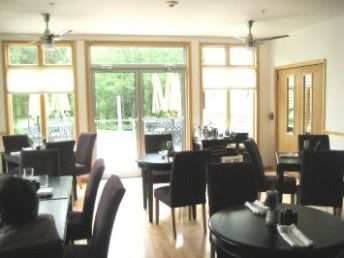 Although we were the only customers in the restaurant on our visit, they tell us that the place has been quite full at times. This is particularly impressive being that they're way off the map, they've been open for less than 3 months, and that they're an all-vegan restaurant in the middle of an area where abstaining from meat and dairy is a foreign concept.
Here's their
sample menu
. Note that much of Minty Wellness' menu is raw, gluten free, and often both.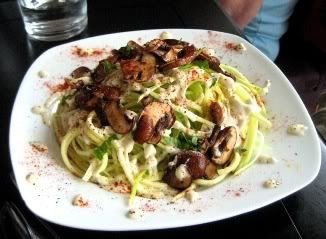 Marya got the raw Linguini Alfredo with zucchini crimini mushrooms and cashew Alfredo sauce.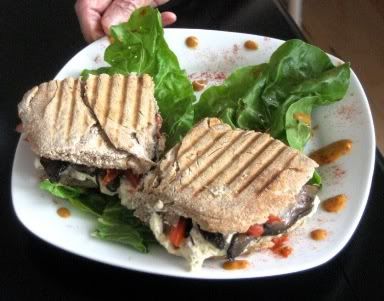 Her grandmother got this portobello mushroom panini with tofu cheese, tomato, and rosemary infused olive oil.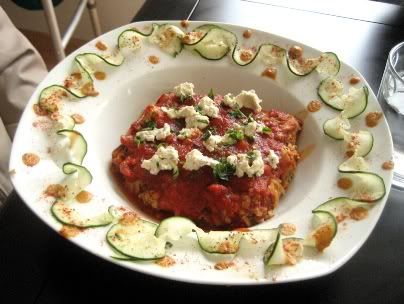 Her uncle Harry Potter got this lovely gluten-free lasagna. I was excited that he got to try something he probably hadn't had for decades because of his gluten intolerance.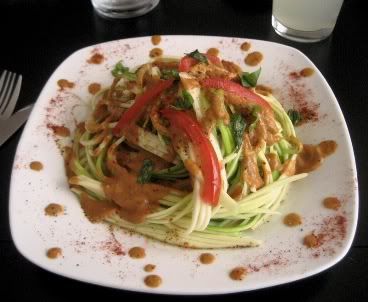 And I tried the raw Linguini Pomadoro with a tomato, avocado, garlic, and basil sauce and zucchini linguini.
(not pictured is Marya's aunt's salad - nice as it looked, it's still just a freaking salad)
And for the desserts
!!!
I should point out that all deserts were raw
&
gluten free.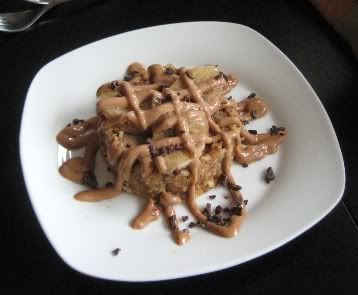 Marya got this banana cake.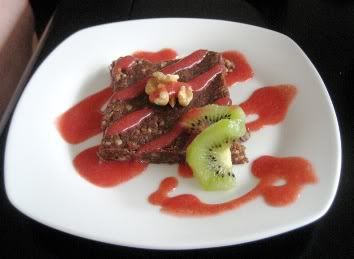 Her aunt got the chocolate walnut brownie.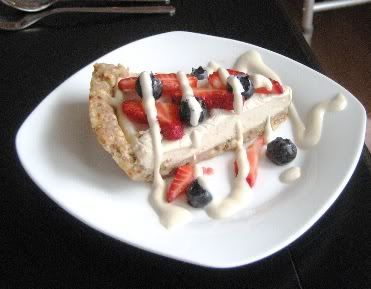 Uncle Harry Potter and grandmother shared the cheesecake with an almond crust and cashew filling. Shortly after this picture the grandmother asked that we move the blueberries from her site.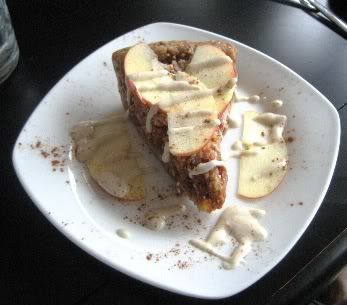 And I got the apple pie with Fuji apples and an almond nut crust.
Despite the quirky name and the fact that they don't serve a bit of alcohol here, we loved this place. The food is top notch and I felt as if we got the royal treatment. And I should mention: the place is quite affordable. Seriously, I was surprised we could get such well-prepared food with (at time of posting) the most expensive entree was $13.95.
The next time we travel to Attica, we will probably stay a night in the hotel, and perhaps Marya will take advantage of the massage center (I'm too ticklish for that sort of thing).
We hope this place does well. I'm encouraged that they've done a fair amount of business in their short time being open. I'm guessing they'll continue to grow as curious locals come to check the place out and word gets out nationally making Minty Wellness a travel destination.