More fun home stuff.
For years I've been addicted to pho - Vietnamese noodle soup. Most popular is the beef version of the soup. Much to my disappointment, I've recently learned that most of my favorite places to get vegetarian pho in Northern Virgina use beef broth. They seem to understand when I explain to them that this negates the whole vegetarian label, but they still do it.
Here is our home version of vegan beef noodle soup (faux pho):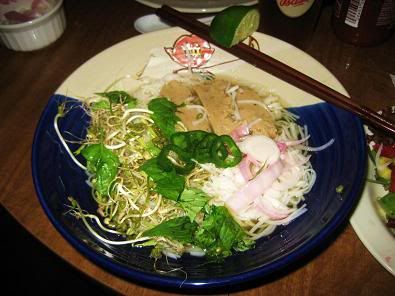 The seitan beef is homemade, and the beansprouts, cilantro, basil were home grown. The onion came from the farmers' market. The veggie broth, rice noodles, lime, jalapeno pepper, hoisin sauce, and sriracha sauce needed to be sourced the old fashion way.
I'm a harsh pho critic, and this was great, even if I say so myself.
Here is schintzel with veganized versions of popular Swabian dishes (dishes from the Swaben region of Germany). I learned about Swabian food on my many trips to
Stuttgart, Germany
.
On the left is Kasespaetzle - German mac -n- cheese. Back when I was a vegetarian and asked the owner of a tiny restaurant in Stuttgart if he had kasespaetzle, he replied almost angrily "Yes, we serve it to women who don't eat meat." Just imagine what he'd think about vegan kasespaetzle.
For the cheese I used a gruyère recipe from Jo Stepaniak's
Uncheese Cookbook
To the right is lindenspaetzle - black lentils on spaetzle noodles. The noodles usually contain egg, but I found a veganized recipe online that simply called for egg replacer. Making the noodles was very messy.
I picked up the schnitzel on my latest trip to Stuttgart at gourmet vegan store
Lebe Gesund