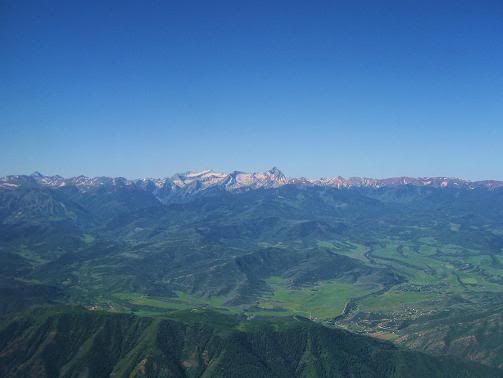 July 4th is apparently the single biggest day of the year for Aspen, which is odd considering the city's main money-making industry is skiing. On the 4th the streets were packed, everyone waiting for the parade to start. We landed at Aspen Airport on the morning of the 4th, and our first order of business was to find breakfast.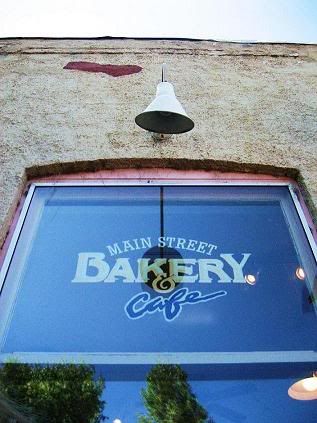 Main Street Bakery
201 E. Main St.
Aspen, CO 81611
Phone:(970) 925-6446
The Main Street Bakery was packed, as well, but after a short 20 minute wait we managed to get seated. Not sure how it normally is, but the 4th clearly had loads to do with how busy the place was - it was near the parade route start and many folks seated eating their meals were in their parade. We decided to have breakfast here because we knew they had tofu scramble.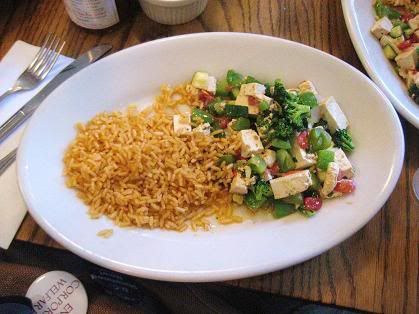 This is their Mexican Tofu Scramble, with the addition of veggies (for an extra $1.75). The menu refers to the rice as being "vegetarian". I forgot about this, and asked the waitress if it had beef broth in it. She went to talk to the chef who told her "no", but that everything served in the restaurant has butter in it. The manager tried to tell us that it didn't have butter in it. So, never got a straight answer. Just had to throw that warning in.
The tofu was...okay - I wish folks would be more creative with their scrambles.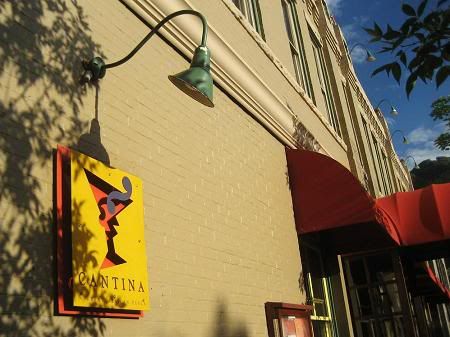 La Cantina
(<-click here to hear some annoying Mariachi music)
411 East Main Street
Aspen, Colorado 81611
Phone: (970) 925-3663
For lunch we headed to La Cantina Mexican Restaurant, knowing they had at least one entree we could eat: the "Vegan Tower".
Marya's mother had this lovely gazpacho.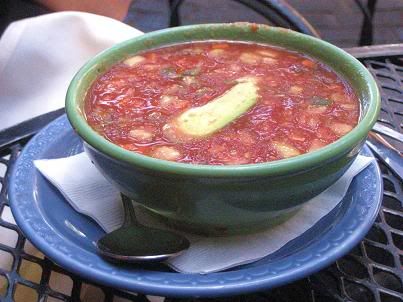 And here's the Vegan Tower: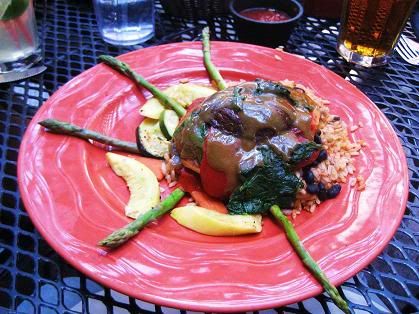 Here's the restaurant's description of the thing: "Grilled Portobello mushrooms, sweet potatoes, spinach and roasted red peppers stacked and drizzled with a roasted pepper balsamic vinaigrette, set on a bed of vegan brown rice and sautéed veggies".
It was an ill-fitting mixture that seemed not at all Mexican. The weirdest part had to be the thick slice of sweet potato in the center. At $18 it was rather steep, too.
Uninspired as we were with this, we still love La Cantina, if only as a watering hole and excellent (free) chips and salsa.

Bad Billy's
508 E. Cooper St.
Aspen, CO 81611
Phone: (970) 925-9225
We went to Bad Billy's for happy hour meetup of Marya's Aspen High School alumni. Though it has regular pub fare, it's also tied somehow to an Asian restaurant, so they've got some noodle dishes and edamame. Both regular and spicy edamame was on the menu, so we went for the spicy, and it came bathed in some sort of sauce. About half way through, it occurred to me: "Hey, is this oyster sauce?". I never did ask.
For an entree, I got this pineapple coconut red curry noodle bowl with tofu.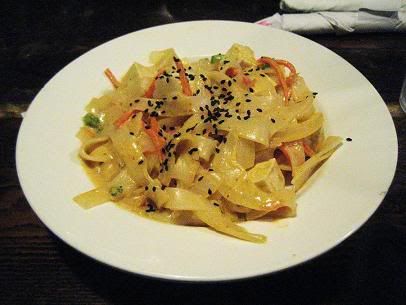 It was okay, but not terribly flavorful. Or filling. But I'm a big guy and could eat my weight in rice noodles.
Marya got the huge Vietnamese rice noodle salad with tofu.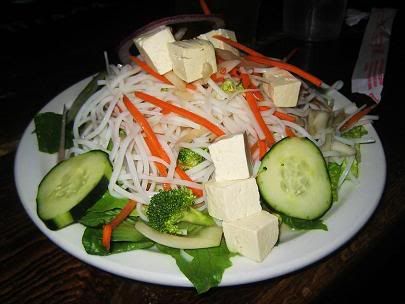 It came with a sweet dressing. It was good, but challenging to eat with chopsticks. I don't know that a fork would have helped. Marya got full and as well frustrated eating the thing, so I got to play clean-up.
Every Saturday Aspen has a huge open air market downtown. It's partly a farmers' market, partly crafts and such. Unlike our farmers' markets in DC, Aspen allows a local winery to sell their product here. Lucky for me - I was hoping to get an opportunity to get some of
Woody Creek Winery
's wines.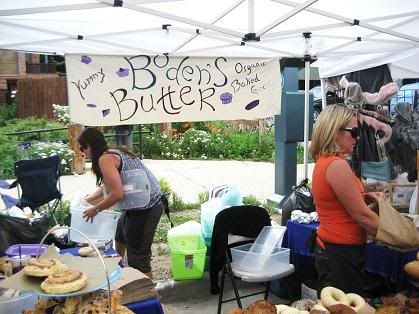 Boden's Butter
601 E. Hopkins Ave.
Aspen, Colorado 81611
Next to the Cheese Shop
Phone: (970) 925-7779
At this open air market the local vegan bakery "Boden's Butter" had a stand. Odd that their banner said nothing of it being vegan. To be sure, I asked. "Yes, everything's vegan", the woman replied.
Ah, then, hook me up with a sticky bun.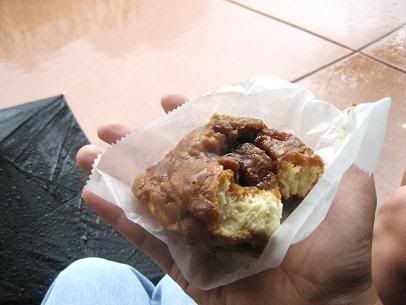 And Mary got this muffin.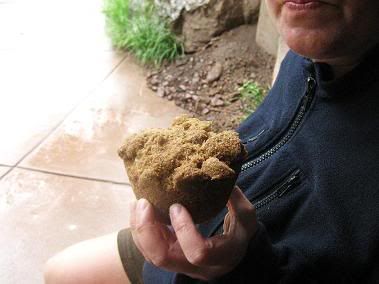 We saved these for later and ate them at a park while waiting for a bus.
We needed breakfast, so we got some coffee and tea from the
Back Alley Coffee
stand.
Next door to Back Alley Coffee 's cart we noticed this sign, and we couldn't turn this down.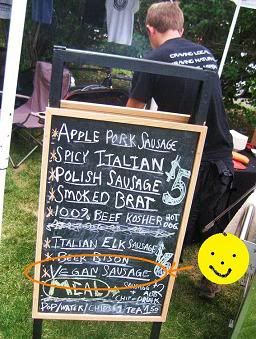 They didn't clean off the grill for us, but I honestly wasn't expecting them to. The sausage was
Field Roast
's smoked apple sage. As we waited for it to cook, it started raining.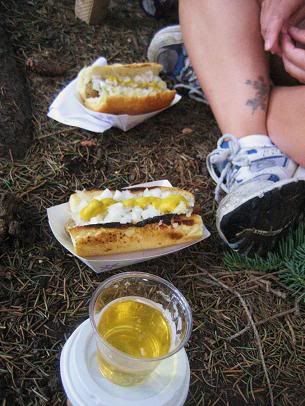 No matter - we lucked out that there was a tree where we could comfortably sit beneath. Also, as luck would have it, Aspen Brewing Company was there handing out samples. So we sat beneath the tree with our coffee and tea, beer samples, and Field Roast sausages. Is this not the breakfast of champions?
This is probably the most negative post I've written. Many of the vegan options in Aspen seemed a token gesture. Sure, places have vegan options, but they don't seem to try hard enough to make them flavorful.
Marya and I agreed that the highlight of Aspen for us was getting the baked goods from Boden's Butter and enjoying the sausages and beer under the tree.