We spent the first full week of July in Colorado, enjoying the 4th in Aspen, attending Marya's high school reunion, and visiting her family.
Ahhh, the family - you either love them or...tolerate them from a distance. They treat your dietary restrictions like an affliction from which they pray you will soon be free. In the meantime they claim a dish is mostly vegan (with only a teaspoon or two of hog grease), sprinkle bacon on the salad, and make you sit at the kids' table.
But not Marya's family. They look at our veganism as an opportunity to learn and try something new. When we go out with them to restaurants they don't normally eat vegan as we do, but they do prepare vegan-only meals at home when we're visiting.
In Loveland, Colorado, Marya's sister made us the amazing tofu paella.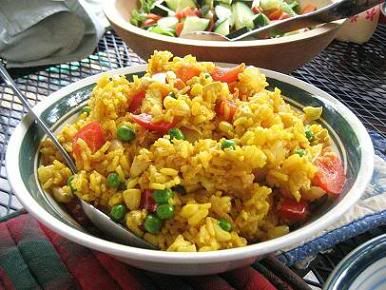 Her whole family enjoyed this dish, including her two children at 2 and 4.
Then came this lovely peach cobbler with rice-based vanilla ice cream.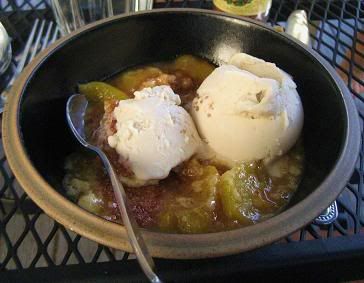 Next we visited Marya's father's place outside of Aspen. For Christmas Marya sent her father a basil plant kit. When we arrived we learned that the plant had fully grown, and her father had been saving it for us to make vegan pesto. He even bought a big tin of nutritional yeast for the occasion. I forgot to take pictures of the meal, but here's the preparation:
Lacking a food processor or a traditional mortar and pestle, Marya's father fetched this gardening implement from the garage - a "dibble". Normally the pointy end is used to pierce holes in the soil to plant seeds, but the rounded end worked in a pinch as a pestle.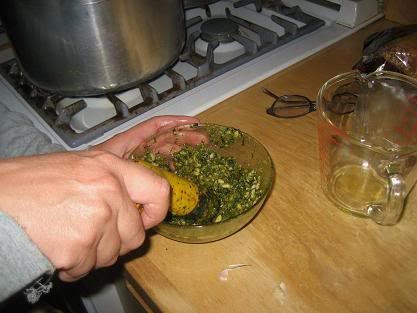 After most of the mashing we added the nutritional yeast for a cheesier flavor.
We also visited Marya's mother in Leadville, but I didn't take any pictures of the food there. Unforeseen circumstances changed the mood of our visit completely (we came home to discover the house had been broken into and had to deal with police and locksmiths, etc). But Marya's mother is headed towards veganism, due in part to us sending her Erik Marcus's book "Vegan: the New Ethics of Eating".
The book is out of print, but
if you'd like to turn a family member around, you can either order it from
Action for Animals
or view a fat PDF file of the entire book from the same site here (assuming it's reprinted with permission)
.