On our way between Leadville and Loveland, Colorado, we stopped in Boulder for lunch. College town that it is, Boulder is quite a vegan friendly city. We were hoping to stop in at the Scotch Corner Pub for some vegan haggis and a plate of vegan bangers and mash. As the designated drinker, I was also hoping for some scotch. But, despite the fact that the
Scotch Corner Pub
has a fully functional website complete with an active events calendar, they apparently have been gone for over a year. In its place, a burger joint. I was nearly in tears.
So we moved on to VG Burgers - Organic Food Fast!
VG Burgers
1650 Broadway St.
Boulder CO 80302
It says on the window "Vegetarian Food", but don't let that fool you - it's all vegan. They're electricity comes from wind power, their produce is grown locally and other ingredients are from sustainable sources (all non-GMO), their throw-away items are compostable, and their food scraps go to a local animal sanctuary. Perfect! Except
no scotch or hooch of any kind!!!
I'm willing to overlook this. Also, their fountain drinks are sweetened with agave nectar.
Whenever I see vegan wings on the menu I
have
to try them. These are the tempeh wings with sour cream. I'm sure I was caught licking the plate when the rest of our meal came.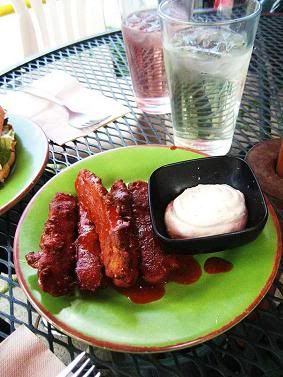 Marya got the club sandwich, which was quite tasty. Was never a big fan of sammiches before, let alone club sammiches, but the vegan clubs I've sampled lately have turned me around.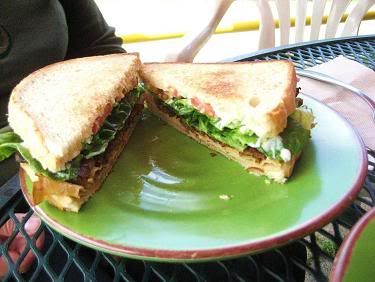 And I got the bacon cheeseburger. By default it comes with a soy based burger, but I opted to swap for what they called a garden burger. Not the brand Gardenburger, but their home-grown version.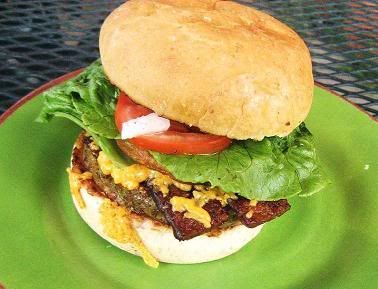 Served with Daiya cheese and tempeh facon, this would have fooled serious carnivores (I'd like to think). I was in hog heaven without any hogs having to go to heaven for my meal.
The place was awesome. I love it when a business model is centered around doing
everything
right.
On our way back to Aspen, we stopped in at the Woody Creek Tavern.
Woody Creek Tavern
002 Woody Creek Plaza
2858 Upper River Road
Woody Creek, CO 81656
I wouldn't have thought this place to be vegan friendly, but thanks to Marya's intel, we knew ahead of time that it is. Really, I just wanted to go here because it was a favorite (if only) local hangout of one of my favorite authors:
Hunter S. Thompson
.
In 1970, Thompson ran for the sheriff of Aspen on the "Freak Power" ticket. Here's his famous campaign poster featuring a peyote button in a clenched fist (hung in the Woody Creek Tavern):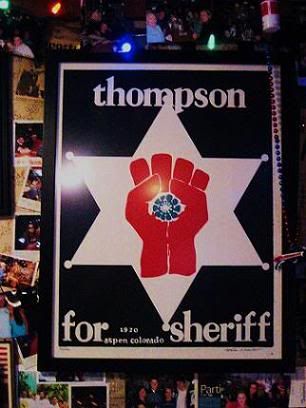 There's only one thing on the menu that is listed as vegan: chorizo tacos.
On our visit we couldn't help but notice the 2 or more dozen bicyclists who'd come for lunch. There are apparently a lot of masochistic bikers who just love pedaling up the mountains here, and odds are that some of them have asked for vegan meals at the Woody Creek Tavern. Thank you all.
We didn't even need to ask that our plates not come with cheese or sour cream - it came with rice, beans, salsa, lettuce, guacamole, onions, and cilantro.
Also listed on their menu is free trade coffee and tea. I'm sure they
really
mean
fair trade
.
Come to honor Thompson, stay for the vegan tacos (and a beer).