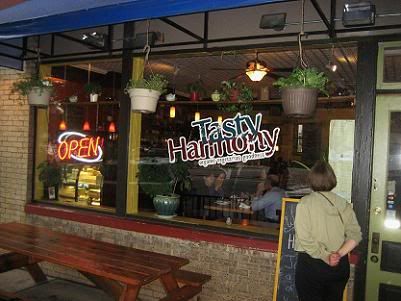 Tasty Harmony
130 S. Mason St.
Fort Collins, CO 80524
Phone: (970) 689-3234
On our visit to Marya's sister and family, we were happy to learn that they were willing to accompany us to the the vegetarian restaurant Tasty Harmony in Fort Collins, Colorado.
Tasty Harmony is mostly vegan - it's damned near impossible to find anything on their menu that isn't. They apparently make much of their stuff on site, not relying on packaged and over-processed fake meat products containing who-knows-what. They get extra points for that. When I asked for hot sauce, they were out of it, but handed me some of the materials they were to use when they whipped up the next batch. They make their own hot sauce?
Really?
Obviously they seem to go the extra mile.
We started with the sprouted hummus with flax crackers. It was great - way better than my
failed attempt to make sprouted raw hummus
.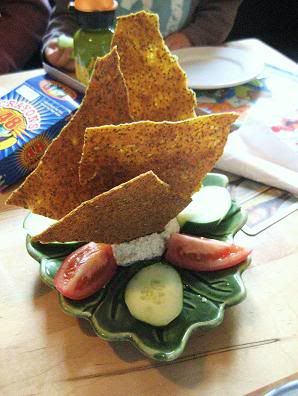 Marya's brother-in-law ordered the "Le Club" sandwich, that included house-made seitan. Though the menu simply says "mayo", it's a vegan version. I got to try a bite of this, and it was fantastic.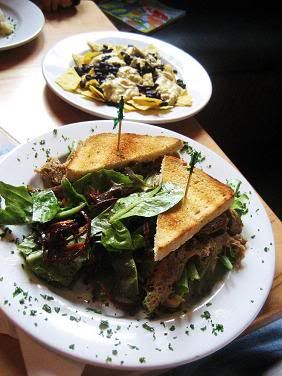 In the background you can see one of the kids' dishes: cashew cheese nachos topped with black beans. The kids loved it.
Also for the kiddies was this seitan steak with mashed potatoes and gravy. Said Marya's 4 year old nephew to the waitress: "The seitan is most excellent."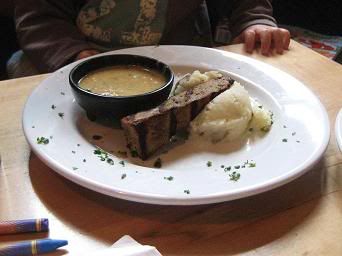 I got to taste a bit of it all and very nearly ordered this child's plate for dessert.
I ordered La Sabrosa Burrito, that had cashew cheese and vegan sour cream.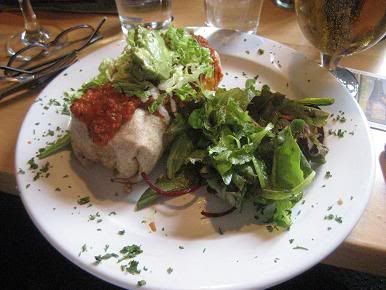 I added jackfruit, which is similar to the artichoke.
And Marya got the Jackfruit Tacos.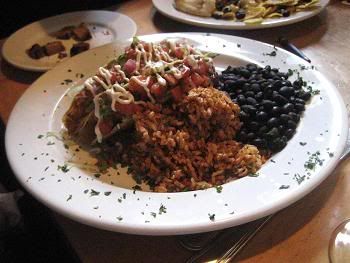 For dessert, we had to find out if the chocolate used was
fair-trade
. I hate asking the question because at best, it isn't but they're aware of fair trade, and at worse I get puzzled looks and promises to ask the chef about it. But much to our delight, the waitress responded with an immediate
"Yes, it's fair trade."
So we shared this lovely coconut cream pie topped with chocolate sauce: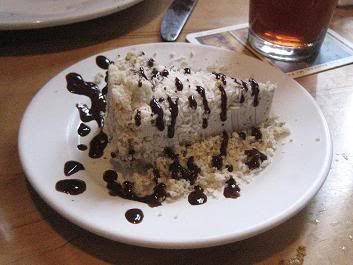 We also shared this banana cake: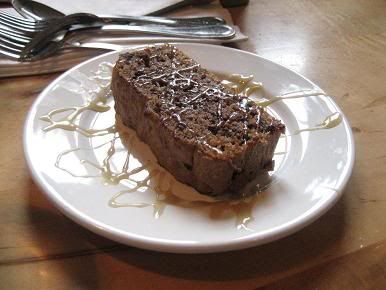 Tasty Harmony is both child friendly and a place I'd see myself frequenting for a quiet night of vegan comfort and local beer at their bar - as often as possible. We all loved this place. Even Marya's sister and brother-in-law who are far from vegetarian (their hobby is making sausage) gave the place high praises.