(please click on an image if you'd like to see the larger version)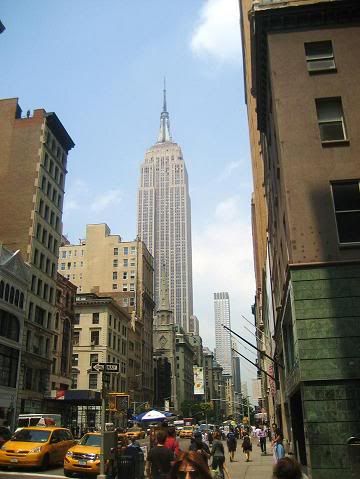 We live in Washington, DC, and we love it. And, thanks to the amazing outreach program of
Compassion Over Killing
, more and more vegan options are popping up around the city all the time. But when we found out DC was voted
Most Veg-Friendly City by PETA
, we were at once befuddled, skeptical, and amused. The number of pure vegetarian restaurants in DC proper can be counted on one hand.
We were also appalled to learn that one of our favorite veg-friendly cities, New York, where there are more vegetarian restaurants in a 3 block radius than in all of DC, was ranked all the way down at #9.
We recently spent 4 days here, and as we consider ourselves
food tourists
and me a rabid camera toting blogger, I'm having to split our many experiences up into four separate blog posts.
Stay tuned!
We go to New York as often as we can, which sadly isn't as often as we'd like. This particular trip was to celebrate our 5 year anniversary and to see
Steve Earle
and family perform at City Winery, a wine bar, restaurant, concert venue, and winery. It was the only restaurant we visited in our 4 day trip that served meat.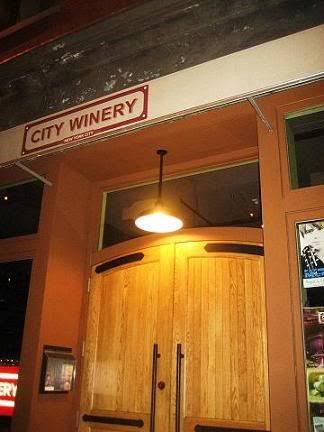 City Winery
155 Varick Street
New York, New York 10013
Phone: (212) 608-0555
City Winery is an amazing place. They make wine on premises and serve other wines from around the globe. You can take wine-making classes here and make your own barrel of wine. You can have them host functions for wine/food pairings - one depressing thing for me to see was a large group sitting around a table in a function room pairing a wine with a rack of lamb.
But they do have vegan options!
We began with this charred green tomato and olive tapenade on
crostini*
: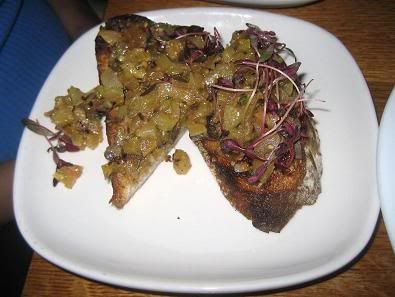 I had this Strazzopretti Pasta with zucchini, dandelion greens,tomatoes, white wine, and garlic: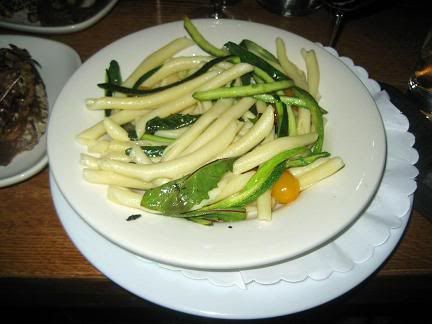 Only problem was - it disappeared too quickly.
Marya had the seared marinated tofu with zaalouk sauce, quinoa tabouli, with fried chickpeas: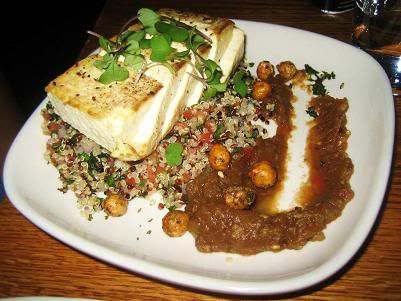 I got to sample a bit of this dish and really liked it. Fantastic job for a place where the menu is very meat and cheese heavy.
For a snack during the concert we got the red and white pretzels - so named because they are made from the wine
lees
(residual yeast in the wine cask after filtering) from their red and white wines.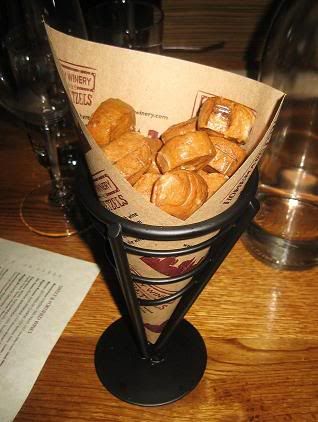 Lees are what's leftover when a wine has been "fined" or clarified - a step in which the method determines whether a wine is vegan. In restrospect we probably should have asked if they use vegan clarifying agents.
The next day we went to Quintessence - a raw food restaurant.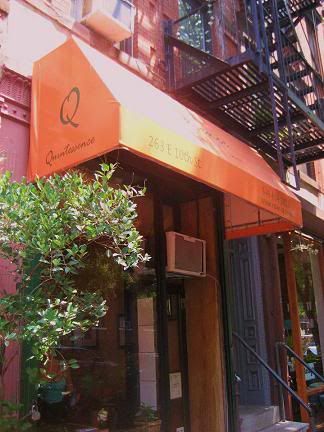 Quintessence
263 East 10th Street
New York, New York 10009
(646) 654-1823
Raw food can be expensive, and I'm coming to really appreciate just why. Raw food chefs really need to know what the hell they're doing. They've got to come up with the right combinations and time-consuming preparations if they're going to impress a world obsessed with cooked food. I used to be one of those hot-food obsessed types but I'm really coming 'round to enjoy more raw food these days.
Quintessence is a tiny and understated place that probably seats no more than 20. That is to say it's a hidden gem.
Marya got the Buddha Bowl salad with pesto dressing and, if memory serves me correctly, corn bread and pesto. Also, she got Peter's Pot - a tomato/pepper/cucumber soup.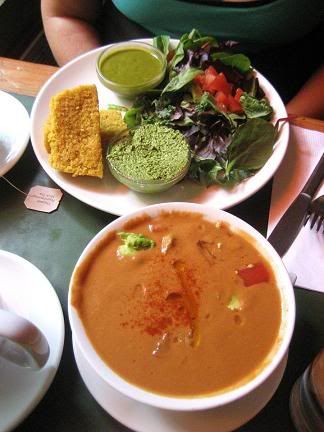 There was no redundancy on the part of Quintessence - she chose to have two pestos with her meal. Can you ever have too much pesto?
And I chose the basil and cheese ravioli wrapped in paper-thin turnip slices plus squash spaghetti, topped with pesto.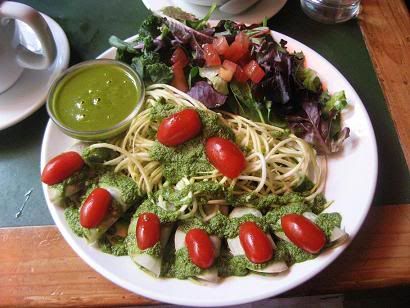 Also, a side salad with pesto dressing. Again with the pesto. I didn't know what to expect with this dish (turnip wrappers?), but I ended up being very impressed. Floored, really.
Word of caution - Quintessence doesn't serve any alcohol here, but thankfully there are plenty of surrounding places that do. Yes, it'd be nice to have a Pinot Grigio to accompany so much pesto, so you'll just have to stop elsewhere afterward for a nip. Not sure if they allow you to bring your own in - they might!
Right next to Quintessence is Live Live.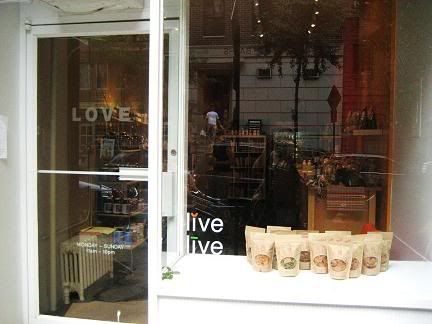 Live Live
261 East 10th Street
New York, New York 10009
Phone: (212) 505-5504
Live Live is a completely raw food, supplement, and body care store. Although they aren't completely vegan (they are beegan - they sell bee pollen), the place is worth mentioning. How often do you come across a completely raw food store? Once. That's when.
In Washington DC, we love to rave about our vegan bakery
Sticky Fingers
. To my knowledge it's the only vegan bakery in all of DC, and certainly worthy of raving about.
But how often have you found yourself just walking down the street and happen upon a vegan bakery you've not heard of before? Once, if you're lucky. This is how we found The Whole Earth Bakery. We [heart] New York.
(see if you can spot the mushroomhead in this pic)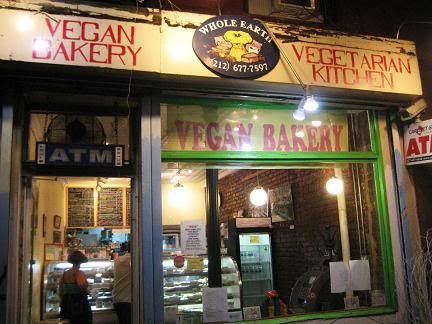 The Whole Earth Bakery
130 St. Marks Place
New York, New York 10009
Phone: (212) 677-7597
The Whole Earth Bakery, in business since 1978, is completely vegan. You would think that with the sign out front that reads
Vegan Bakery
they wouldn't need to label everything in their counter as vegan.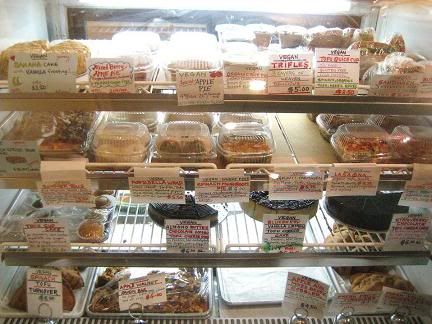 But they do.
The folks here were quite nice. The gentleman on the right in this photo insisted we snap their picture when they saw me taking pictures around the place.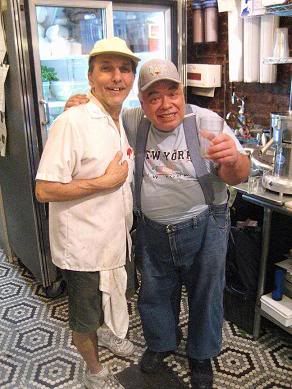 I'm not 100% positive, but I'm guessing the guy on the left is Peter, proprietor of the place.
Marya got the Peach Upside Down Cake and I got the Tofu Cupcake.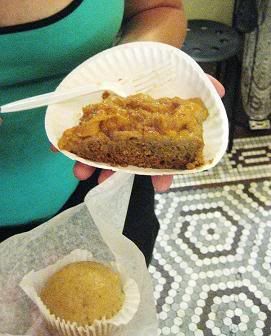 Very tasty!
So, there you have it - a small sampling of why I feel New York doesn't deserve to be 9th on a list of veg-friendly cities in North America. Perhaps in the top or second slot. Watch for more posts on New York City in the coming days.
---
And now for some other things we did to kill time between meals: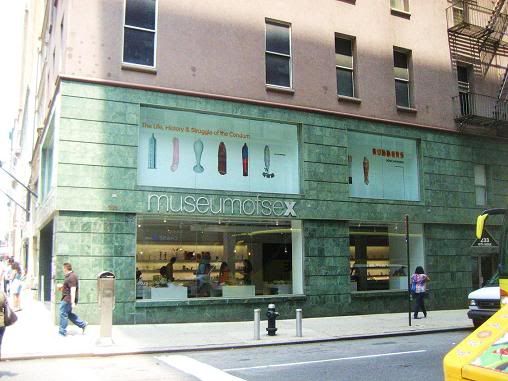 Museum of Sex
233 Fifth Avenue
New York, New York 10016
Phone: (212) 689-6337
We spent two or more hours here, but easily could have spent more. We were impressed at how tasteful the place was - it could have easily been sleazy. When we visited, there was an exhibit called "RUBBERS: the Life, History & Struggle of the Condom", sponsored by Trojan Condoms. It quite informative. My favorite part was a video showing Trojan's factory floor and the start to finish production of condoms. It was hilarious watching the elderly women employees of Trojan handling and testing each condom.
And on our way back to our hotel from the Museum of Sex was Gothic Renaissance.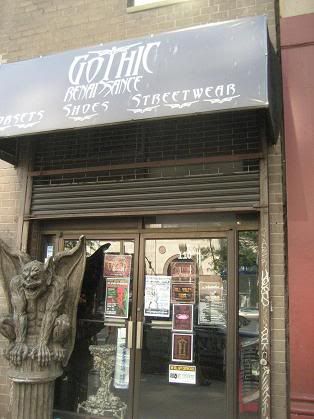 Gothic Renaissance
108 4th Avenue
New York, New York 10003
Phone: (212) 780-9558
A fun store with gothic clothing (some even made in the US), music, and other dark brick a brack. New York also has more goth stores in a 10 block radius than anywhere, I'm guessing (see
my post from our last trip to NYC
).
* - emphasis on the crostini is an inside joke