Takoma Park to me is at once Norman Rockwell's America and Berkeley East. It's a clean-cut yet whimsical hippy oasis that straddles Washington DC and Maryland. It is the home to
Compassion Over Killing
. On the Maryland side of town they have as their representative the ultra-cool
Jamie Raskin
. Thanks to the work of COK, Raskin is now vegetarian.
Takoma is a popular resting spot for backpackers as one of the better DC hostels is here:
Hilltop Hostel
. It's a ways from downtown DC, but the low price of the hostel and convenience to the Metro's Red Line make it a good deal. Plus, I have it on good authority that it's a much more relaxed place than the hostel down town. And if you're staying at Hilltop and are looking for vegan food, you're in the right place. Here are just a few places in Takoma Park DC/Maryland that have vegan options: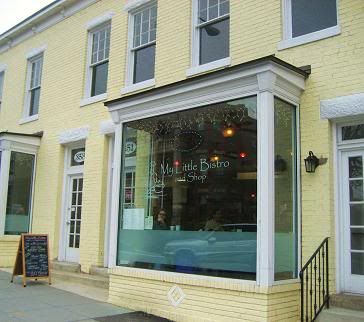 My Little Bistro & Shop
353 Cedar St NW, Washington, DC
(202) 722-4787
Open: Mon.-Thurs. 8 a.m. to 8:30 p.m
Fri. 8 a.m. to sunset
Sun. 9 a.m. to 6 p.m.
Just on the other side of the Metro tracks from the hostel (there is an underpass)is My Little Bistro and Shop. Recently Compassion Over Killing worked with them to put together a separate
vegan menu
.
I had the My Little Bistro Vegan Chicken Club and Marya had the Vegan Grilled Chicken with Roasted Red Peppers: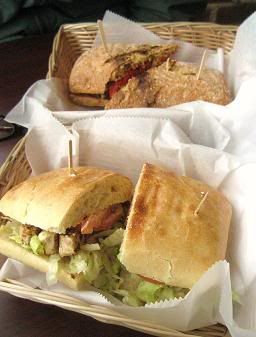 The french fries are fantastic - they're tossed in
Old Bay Seasoning
a popular Maryland-originated seafood spice mixture that's great for vegan food (and bloody marys). The fries alone were reason to plan a trip back here.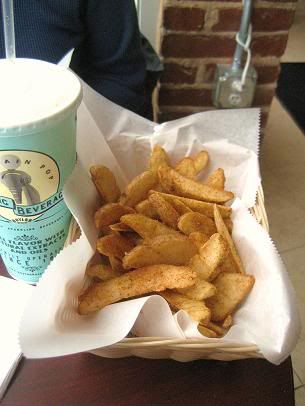 ---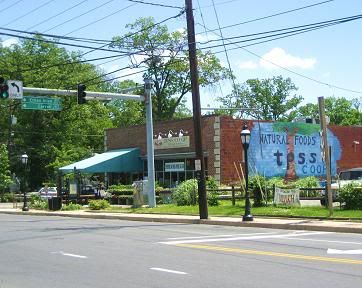 Takoma Park Co-op
201 Ethan Allen Avenue
Takoma Park, MD 20912
(301) 891-2667
Across the border into Maryland
*
is the Takoma Park/Silver Spring Co-op. It's got loads of bulk food bins and many non-alcoholic essentials. If you're staying at the hostel, this will help make good use of the kitchen.
* I know, I make it sound as if it's hundreds of miles away and you'll need your passport to cross, but it's less than a 1/2 mile walk and you won't even notice when you cross over the border from DC to Maryland
.
---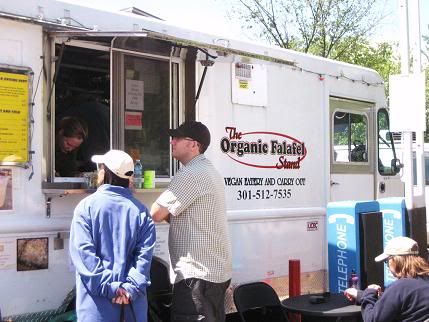 The Organic Falafel Stand
7224 Carroll Ave.
Takoma Park, MD 20912
(301)512-7535
Open: Presently Tues-Fri and Sun: 12:00PM - 8:00PM
Across the street from the Co-op, in the parking lot of an independent gas station, is this gastronomical oddity - The Organic Falafel Stand. I call it an oddity because in the middle of a suburban setting is this unbelievable find: an all-vegan falafel stand. I just couldn't believe my eyes when I saw the word "Vegan" on the side of the truck - I recall my mouth hanging wide open in shock. I had to read it again: "The Organic Falafel Stand - A
Vegan
Eatery and Carry Out".
Because this seems so out of place in this urban location you'd assume business would be rather thin, but on our recent visit there we were third in line, and 4 others came behind us - it was brisk. They apparently do well enough to maintain 3 employees in that little truck. This is Takoma Park, after all. I was quite happy to see how popular The Organic Falafel Stand is.
Here is their
menu
.
I had the tofu grill platter (left) with hummus, baba ganouj, taboulli, salad, and pita, and Marya had the falafel platter with all the same sides: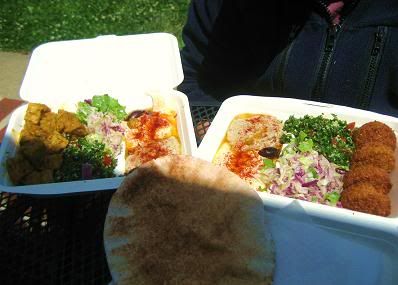 For desert we sampled their baklava: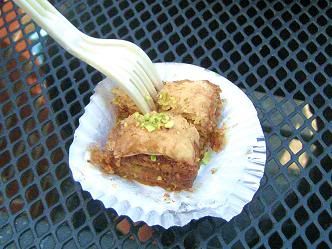 I had a green tea with this meal, and it seemed to go quite well with the baklava. Next time I look forward to trying their Cafe' em hel - a Turkish sweet coffee with a dab of cardamom.