Here's a quick photo dump of some things we've made at home lately:
Persian Tempeh with Pomogranite Juice (recipe from
The Perennial Palate - The Third Feminist Vegetarian Cookbook"
:
Served with quinoa (not Persian) and a side of brussel sprouts.
Ethiopian goodies: Yemesirkik (lentil wat/stew), a seitan wat, and salad, served on injera.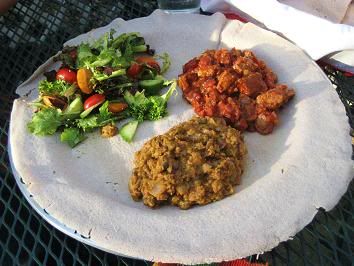 The lentil wat recipe came from the
"World in Your Kitchen"
cookbook. The lentils are prepared with berbere paste, which included about 1/2 a cup of paprika.
The seitan recipe came from
"Vegan Fire and Spice"
, and was an attempt at recreating berbere paste with more readily available ingredients - with tomatoes to replace the red color normally provided by the paprika.
Ethiopian food is served on
injera bread
a flat bread made from iron rich
teff
flour. It came from a local Ethiopean market where you can also get whirled peas: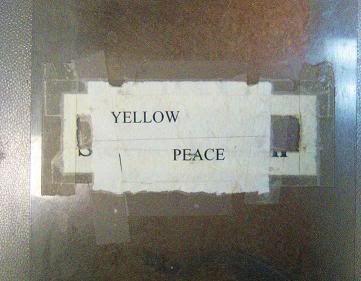 Marya made this lovely lasagna with tomatoes and onions from the farmers' market, basil from our garden, vegan ricotta made with locally made tofu, and Follow Your Heart mozzarrella:
That's a Baco Noir from a Michigan winery in the background.
Dessert! Living Harvest hemp based vanilla ice cream with
Tiogo Orchards
bourbon peaches and locally stolen mint: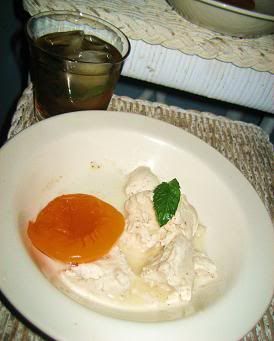 Tiogo Orchards appears at some local farmers' markets. We've also gotten horseradish from them.
In the background - mint julep made with agave nectar, also with stolen mint. I'm considering creating a Google map compilation of all the places in the neighborhood where they've got mint growing wild in their front yards.
Marya made this wonderful Chive Biscuits and Gravy dish: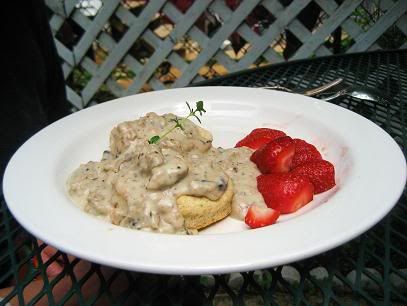 The chive biscuit recipe came from
Veg News
. Chives came from our garden - that is to say we've managed to keep it alive in the ground for a week since we brought it back from the farmers' market. Same goes for the thyme sprig popping up in the center. The gravy was made with locally grown mushrooms and locally produced soy sausage. The strawberries are also from the local farmers' market. Have I mentioned how much we love the farmers' market?
Dips: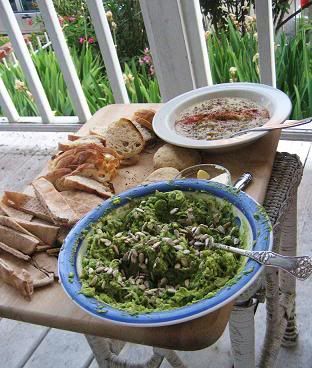 The hummus in the background is nothing to write home about - came from a mix we had in our cupboard for years. In the foreground is pureed avocado with pickled ginger and wasabi Marya made - an odd combination for sure, but quite good - like Asian guacamole. Recipe from
Fast and Fresh Vegan Pleasures
by Amanda Grant.