So, I made it back from Germany, apparently just before the volanic ash in Iceland traveled too far south and flights began to be canceled.
I just wanted to share a pic of my haul - all the German vegan goodies I could fit in my suitcase and carry-on from health food stores Lebe Gesund and Basic Bio in Stuttgart.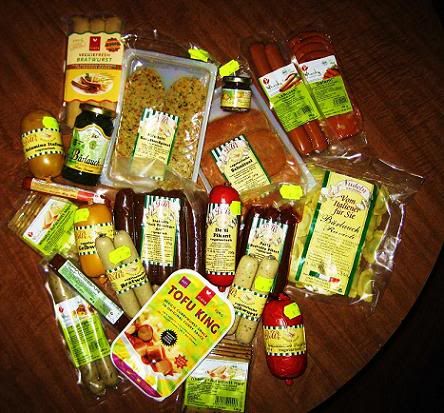 Pictured are several different makes of bratwursts, salami, sliced deli meat-less meats, schnitzel, wild garlic pesto, and wild garlic ravioli. To paraphrase
Reverend Billy Talen
, "Grill-a-lujah!"
And I walked by a ZPizza today in Springfield, Virginia and noticed this ad in their window.
I knew ZPizza had some vegan options, but that they're using some of their valuable advertising space in the window to appeal to us vegan folk to me is amazing. And this is in a part of Northern Virginia where the idea of a nice meal out is Chili's. I've got a wonderful feeling - ev'rything's going my way.