Greenwich Village in New York City is vegan paradise. We just had to check it out. Train tickets were on special and all the online menus from The Village restaurants looked too good. I can't imagine
Happy Cow
mentioning every veg*n friendly restaurant here - you'd need an entire website dedicated to that. We even came across vegan restaurants we'd not previously read about, including a Vietnamese and a Chinese place. Hopefully this will be the first of many posts on New York City.
Sadly, not all of The Village is so veg*n friendly: Witness this reaction to Meatless Mondays springing up everywhere: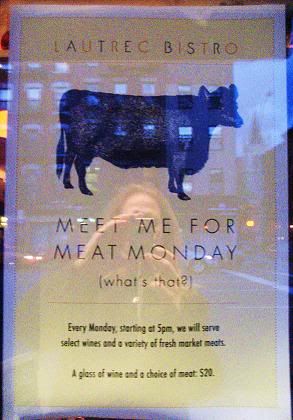 If you can't read the fine print, it is offering a glass of wine and a choice of meat for $20 on Mondays. Yay. But thankfully such places are in the minority.
The best deal on a hotel in NYC is, by a happy coincidence the hotel closest to the highest concentration of vegetarian/vegan restaurants in the city. Oddly, it is also very close to the highest concentration of goth clothing stores in the city (more on this at the end of this post).
St. Marks Hotel
2 Saint Marks Place
New York, NY 10003
(212) 674-2192
Note:
They accept only cash
This is far from a luxury hotel, but it was quite nice and very clean, especially for the price. I was expecting it to be "European Style", which is a fancy way of saying shared bathrooms down the hall from your room. But we had our own bathroom and were even provided with soap, shampoo, and conditioner. Not even the luxury hotel I'd stayed in recently while in Stuttgart provided conditioner. The place is not fancily decorated, and my side of the bed was against the wall, but at $120/night plus taxes, this is small stuff. The rates do vary by season, I should point out. They also have a nice pub on the ground floor.
The place has a horrible reputation from what I've read about it on Yelp* and Yahoo!, but much of this seemed undeserved as peoples' expectations seemed a bit high. It's a good place to stay if you just plain don't want to spend much on a hotel.
I didn't take a picture of it, but I did take a picture from our hotel room: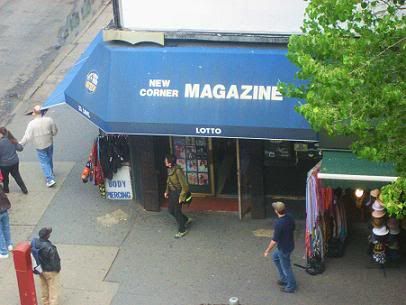 I love a corner store where you can get psuedophed, LifeSavers,
and
body piercing.
---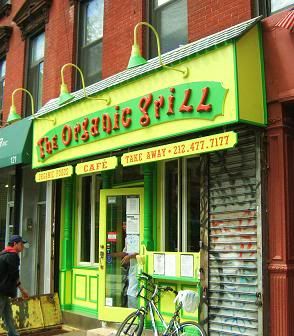 Organic Grill
123 First Avenue
New York, NY 10003
(212) 477-7177
Open daily 12:00pm-10:00pm
Our first stop for food was The Organic Grill. The place is vegetarian and very vegan friendly. They serve eggs and dairy, but eggs can be substituted with tofu omellete or scramble, and vegan cheese and soy whipped cream are an option. They even have cashew sour cream for the huevos rancheros and frittata.
I was torn on what to have, but settled on the pierogi special. The perogies contained onion, potato, and tofu, served on a bed of lightly cooked kale.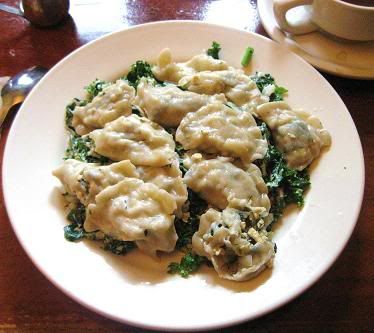 It's been years since I've had a perogi - this was lovely.
Marya had the vegan omellete with (if memory serves) shitaki mushrooms, kale, and vegan cheese.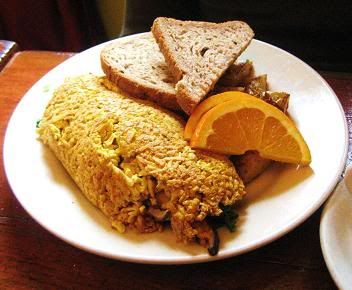 This was a slightly different idea for a vegan omellete - rather than trying to make a smooth egg-like base they used shredded tofu and some sort of binder. It worked - better than many vegan omelletes I've had...or made. She chose the spelt toast, too, which is quite a unique menu item.
The Organic Grill does serve beer and wine (organic, of course!) but we were in the mood for bloody marys. We moved on to the restaurant Counter for that, but more on that place in a bit.
---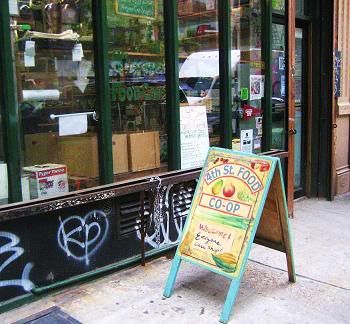 4th St. Food Coop
58 East 4th Street
New York, NY 10003
(212) 674-3623
Open daily 9:30AM through 10:00FM
Next we went on to visit the 4th Street Food Co-op. The place is small, but has an impressive amount of locally produced bulk foods. Many of the bulk bins mention the town or farm where the grain was grown, plus the number of miles away from the store it is. I believe the place is vegetarian, mostly vegan, and they had loads of fair trade items, including
Coconut Bliss
ice cream bars: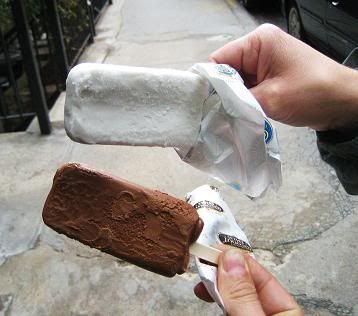 ---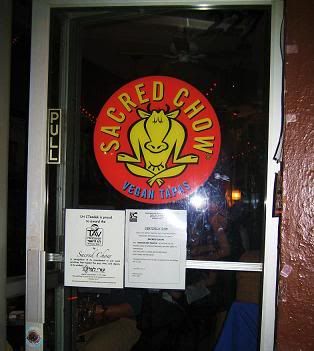 Sacred Chow
227 Sullivan Street
New York, New York 10012
Hours: 11 AM - 10 PM Sun-Th, 11 AM - 11 PM F & Sat
You've got to love the logo of this all vegan restaurant - it's got a cow in the lotus position meditating away. You can almost hear the "ohm", or whatever cows say when they're meditating ("mho"?). The place was packed when we met friends there on a Saturday night, so we were thankful we managed to score a table for 4.
Overwhelmed by the fact we could order anything on the menu (this happens to us when we go into an all-vegan restaurant), we settled on each of the 4 of us ordering 3 tapas plates - there was a 3 tapas for $20 special that evening.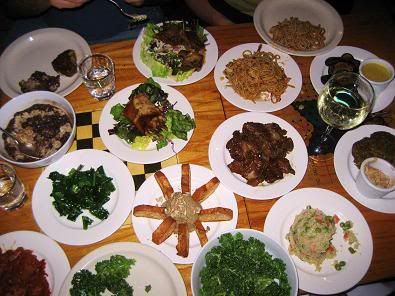 The dishes included soba noodles, pilaf, kale, Sicilian meatballs, beans and rice, tofu cutlets, but the biggest hit of the evening was the bbq seitan. Even our omniverous friends who graciously volunteered to meet us at a vegan restaurant and were understandibly skeptible of fake meat were impressed.
Then came the desserts.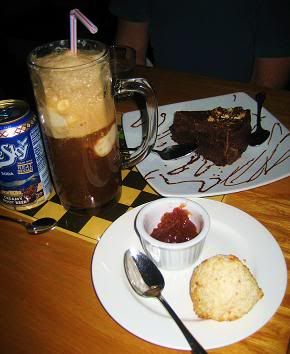 Marya opted for the macaroon and our friends went for the triple chocolate brownie. I just couldn't resist the root beer float - it's been years since I've had one, so this was a lovely treat.
Great place all 'round.
---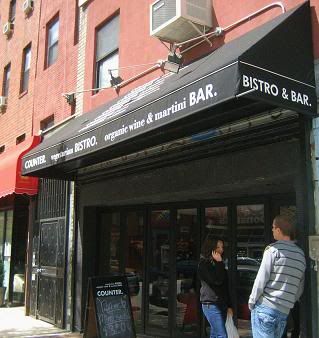 Counter
105 First Avenue
New York, New York, 10003
(212) 982-5870
Next morning we went to Counter. I was a bit skeptical about this place when I visited their website - it looked
way
too fancy to be fun, but I was, thankfully, wrong. My biggest concern was that I'd be underdressed, but attire didn't seem to matter here. We went to this place a total of 4 times - 3 for drinks and once for brunch (with drinks). All the staff were great (we got to know them well after so many trips), and the place has a chill vibe.
Here's the brunch menu - with loads of vegan options: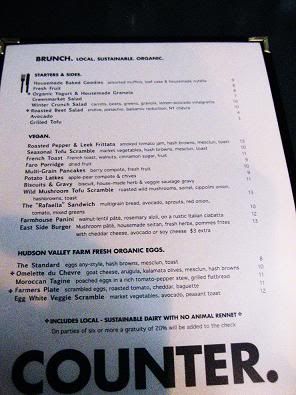 I went for the biscuits and gravy (I'm a sucker for gravy):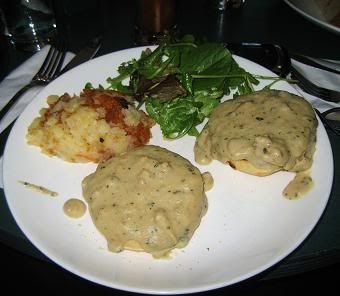 Marya went for the wild mushroom tofu scramble :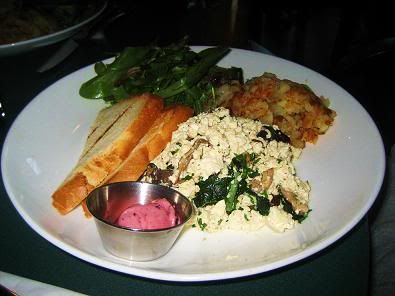 And our friend Michelle ordered the frittata:
Plus we tried this mean green bloody mary, with spicy greens: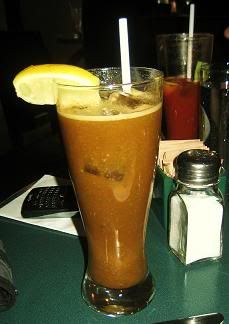 It can be best described as a bloody mary/green smoothie hybrid.
---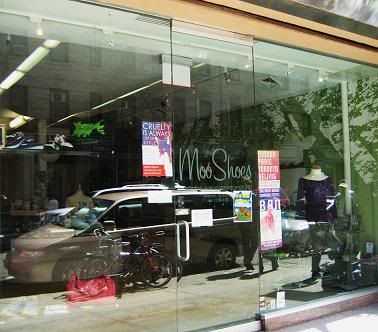 MooShoes
78 Orchard Street
New York, NY 10002 USA
(212) 254-6512
Open Mon-Sat: 11:30AM-7:30FM
Sun: 12:00FM-6:00FM
Next stop - MooShoes an internationally known vegan shoe store - because being vegan isn't just about what you put between your lips.
Warning:
if you're allergic to cats, just do mail order from MooShoes. They have a bunch of cats running around the place. To me that just adds a layer of coolness.
I didn't need any shoes at the time (still have a pair of
Vegetarian Shoes
from my last visit to MooShoes that are holding up well), but I did pick up a belt, also made by Vegetarian Shoes. It's made with a heavy material, so it should last me a good long while.
---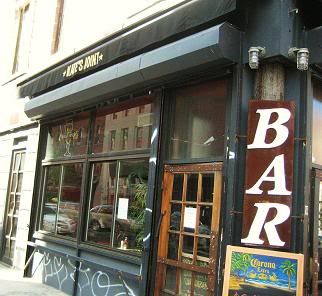 Kate's Joint
58 Avenue B
New York, NY 10009
(212) 777-7059
Open: Mon-Thu: 11am-11pm
Fri: 11am-1am
Sat: 10am-1am
Sun: 10am-11pm
Brunch menu til 4pm
Since I'm such a fool for
vegan wings
, and Kate's Joint has the reputation of serving the best in NYC, we just had to go there to try them. Marya got the popcorn shrimp.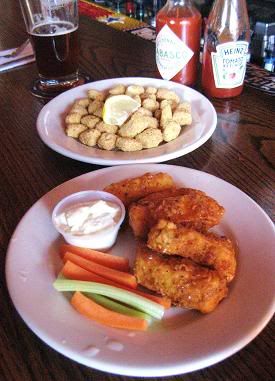 The wings were slabs of tofu that were certainly expertly prepared. I still prefer the wings of Asylum in Washington DC the most, but I wish they'd prepare them more the way Kate's does - tossed in the perfect buffalo sauce vs hot sauce on the side. Kate's wings had the perfect texture, too.
Click
here for Kate's Joint's Menu
. They've got some amazing basic pub food and quite an entree selection listed. Perhaps the most notable thing about it is that you have a choice of dairy and non-dairy versions with no difference in price - most places will charge you quite a bit extra for vegan cheese.
I'm really looking forward to going back here for brunch some time.
---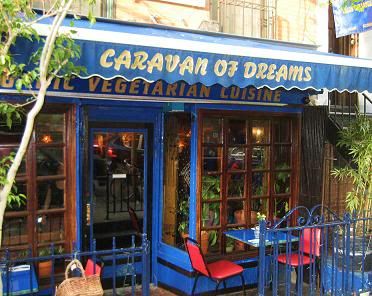 Caravan of Dreams
405 E 6th St
New York City, NY 10009
(212) 254-1613
Open 11:00AM to 11:00FM Sunday through Friday
11:00AM to midnight on Saturday
This is the place I was most looking forward to going on this visit to NYC. They have a huge menu that is strictly vegan, a good deal of which is raw. Oddly, the place boasts about its being certified Kosher. Isn't all vegan food by definition Parve? No matter, they list the Rabbi who oversees their operations to ensure they are
kosher
.
I suppose the restaurant is aptly named as they seem to cover the globe in their repertoire, including Spanish, South/Central/North American, Japanese and Indonesian dishes. I should add that the place has a lovely atmosphere - dimly lit, cozy and romantic. The brightly lighted dessert case takes away from this just a bit. A solo violinist provided the background music as we dined.
As an appetizer we chose the Arabian hummus and zatar.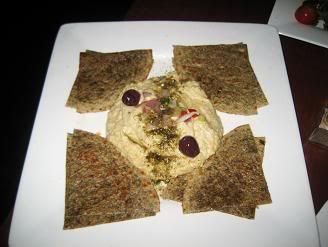 I was (once again) overwhelmed with the menu, but picked the paella as my entree.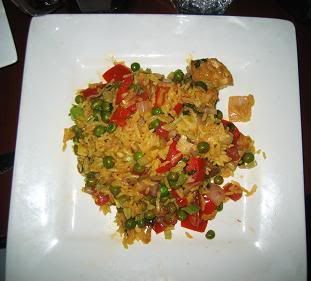 My only complaint about it is that it could have had a bit more saffron flavor.
Marya chose the seitan taquitos with sauteed greens. I sampled them and they were fantastic.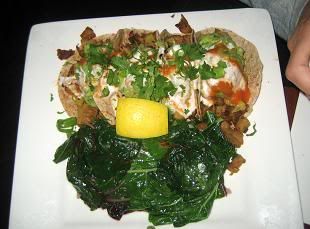 For dessert I...can't remember what I had, but it was as delicious as it was pretty: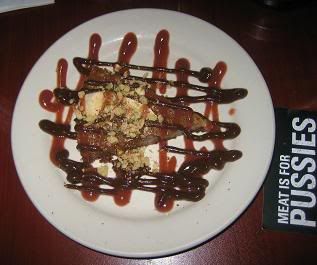 Marya had the cheesecake: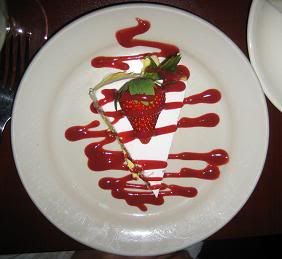 It may be difficult to remember while looking at these photos, but
these are all vegan
.
---
---
Next up, a short note on some of the goth clothing stores in the Village.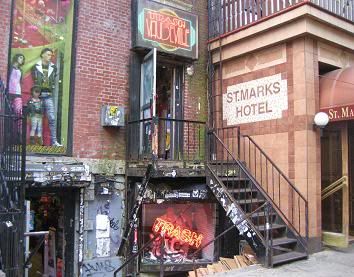 Trash and Vaudeville
4 St Mark's Place
New York, NY, 10003
(212) 982-3590
Open 12-8:00PM M-Th
11-8:30 Fri
11:30-9:00PM Sat
1-7:30 Sun
The link anchored to their name above is not their official website. I suspect the idea is that they don't have their own website as a way of saying
"we're too cool to have a website."
But the place is cool enough to have their own
Wikipedia entry
.
As you can see from this photo, the place is right next to our hotel, St. Mark's.
The place has one of the best reputations in the city, and among the best in the world as a source of alt/rock and roll/goth clothing. There was a big poster of an unnamed rock star looking guy in the store, and I noticed the guy working there, standing in front of the poster
was the same guy
. Surreal.
The place had some great stuff, but what I really look for in clothing is that it is made in the USA, Canada, or EU country. It's my hope that if the clothing is produced in these countries, it's made under fair labor conditions. Trash and Vaudeville had two such brands in their store:
Couture Clothing Company
and
Shrine
. This place has everything. I even asked if they have cufflinks, and they do! At $50/pair. The most attractive thing I found was a jacket by Couture. It fit perfectly and looked nice, but at over $400, it stayed right there on the rack.
---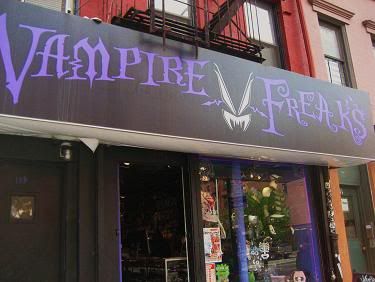 Vampire Freaks
189 Avenue A
New York, New York 10009
(212) 505-VAMP
Open M-T 12:00FM - 9:00FM
F-S 12:00FM - 10:00FM
Sun 12:00FM - 7:00FM
We missed the Tim Burton exhibit at the Museum of Modern Art, but this place sort of made that up. They have an extensive selection of "Nightmare Before Christmas" toys here. They also have loads of clothing, including (from what I could find) one "Made in the USA" label, which is
Buddhaful
. They also have some great music CDs here, and I ended up buying a
Clan of Xymox
disc, plus a copy of the magazine
Gothic Beauty
. There is a regular column in Gothic Beauty about gardening.
Who knew?
I've decided that the best shopping is done second hand, and was happy to see that yet another clothing store, Search and Destroy (25 Saint Marks Pl, New York, NY 10003) sells mostly second hand stuff. It seemed more of a retro place than anything, and we were disgusted by a paper mache pig dangling from the ceiling with its feet bound and its throat slit.
But they did have a wicked-cool Kiss pinball machine:
---
The Village was a fantastic experience, and we will certainly be making many more trips here. In addition to attempting to get to all the restaurants, we've also got to try to get back to the same restuarants to try all the other dishes.