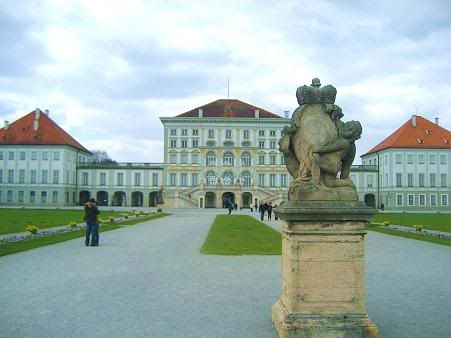 When I first traveled to Munich in 2008, I was at that point a vegetarian for almost a year. I decided that when I went to this 500 year old restaurant, I'd go off the wagon long enough to try the wurst platter, including 4 different kinds of sausage. See, at the time I was struggling with being vegetarian and still wanting to sample all the culinary specialties a region has to offer. As a cultural tourist, food to me is a big part of the experience.
But, that was then, and this is now. I'm a committed vegan. I no longer believe in the Paris Exception, which is, if you can't find food, just eat whatever's available (yes, I realize my going off the wagon in 2008 was voluntary). It is my belief that there is never a need for the Paris Exception. There's almost always something you can find in a culture that's vegan, or in many cases vegan versions of traditional meat dishes (seriously - read on).

Note the first: I'm going to incorporate a tiny bit of travel/tourism info in this segment.
Note the second: Please remember you can click on each picture to see the larger version of it.
First, the restaurants:
Prinz Myshkin
Price Range:
???
Late Friday night I ventured over to Prinz Myshkin, a vegetarian restaurant a few blocks south of the Marienplatz. According to the information I found on Happy Cow, they're open 'til 12:30AM. I arrived at 11:00PM. I had to search around the restaurant for a waitress, and when I asked about the vegan options, I was told that they were out of them and they only had vegetarian entrees. Fizzer.
To close the chapter on this restaurant, I'll detail my experiences with them the following day: I figured I'd give Prinz Myshkin again for lunch. I walked in and patiently waited behind a couple who appeared to be making reservations for later. I felt invisible to the staff aside from when they groaned to let me know I was in their way. After the couple left, I waited around a while to see if a waitress would like to seat me. I gave up and bid the restaurant farewell, apparently loud enough to disrupt the previously oblivious waitress and a few patrons. Snootiest vegetarian restaurant I've ever set foot in.
So, back to Friday night - I ended up resorting to my fallback plan: Döner/Kebap shop: Turkish gyro/falafel/kebab imbiss houses that are everywhere around the city. I should point out that the word "imbiss" means
snack
or
light meal
.
There were 3 just on the block around the corner of my hotel. I ended up going to two of them that night for a falafel sandwich. In the second shop I also got rice and dolmas served to me by an Omar Sharif look-alike. When you order falafal or other vegetarian sandwiches at these places, you must work with the person preparing the sandwich to make sure they don't put feta or drizzle tzatziki (cucumber/mint yogurt sauce) on it. When all else fails, this is a very good option in big cities all over Germany, along with Asian food.
---
Tushita Teehaus
Klenzestraße 53, Munich, Germany (Franhoferstrasse U-Bahn, U1 or U2)
Price Range:
€€
Tushita Teehaus is totally vegan, which is rare in Munich - Germany for that matter. I decided to stop in on my way to another restaurant for a cup of tea. After a while I realized they serve more than standard tea house fare, and it looked
really good
. The couple next to me were sharing a pasta primavera dish that looked fantastic. It definitely made me reconsider moving onto the next restaurant after I was done with my tea. Only one drawback to this place - no alcohol.
I should note that some tea served here is organic, and some are fair trade. I ordered one that was both.
---
Cafe Ignaz
Georgenstraße 67, Munich, Germany (Josephsplatz U-Bahn stop, U2 or U8)
Price Range:
€€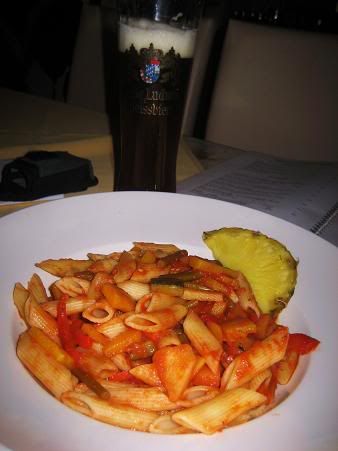 This place is 100% Vegetarian with a huge menu, including 1.5 pages of vegan options. Among the vegan options are pasta dishes with your choice of topping. I chose the penne pasta with ratatouille. It turned out to be rather odd - particularly because of the sliced carrots and green beans in the sauce. I've read that ratatouille versions can vary greatly, but this seemed a bit of an outlier regardless. The slice of pineapple on the side added to that perception. Despite my belief that carrots and green beans should go no where near pasta, the dish was good.
---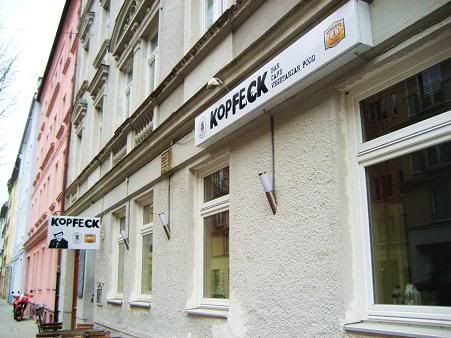 Kopfeck
(website in German)
Klenzestraße 89, Munich, Germany (Franhoferstrasse U-Bahn, U1 or U2, plus a few blocks walk)
Price Range:
€ for most plates, €€ for bigger entrees
Kopfeck is my kind of place: blood red walls with rock memorabilia, Van Halen on the sound system (David Lee Roth era), bartender with a Judas Priest belt buckle. Awesome. It was like a home away from
Asylum
for me: a pub that serves amazing vegan food. Kopfeck quietly and nonchalantly whispers
"cool"
. I ended up coming here 3 times.
Kopfeck is vegetarian, but you'll see from the menu below it's practically vegan. They'd save time by pointing out the options that are not vegan.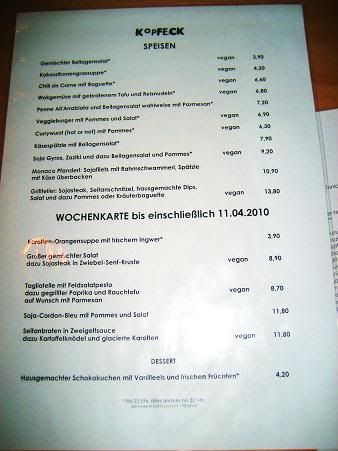 The first dish I had here was the Grillteller: meat sampler plate with soy steak, seitan schnitzel, and gyro meat (seitan too, I believe), with french fries, 3 housemade dips.
The dish also came with a salad, which I'll just show to illustrate that this low key and chill place has class: lovely salad with beets, tahini dressing, and drizzled artfully with a vinaigrette.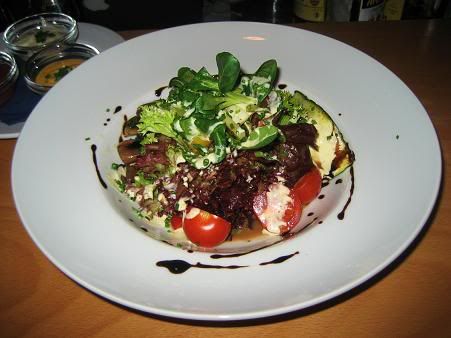 Later that night I came back for the currywurst: a sausage sliced up and drowning in a tasty ketchup based curry sauce. Currywurst is apparently a very popular imbiss dating back to Sept. 4th, 1949. Odd that a dish has a precise birthdate, but
click here for the details
.
The following day I had to time it right with getting one last meal here and catching my train. I was all set to order the highly recommended veggie burger, but decided to try one more traditional Bavarian dish: (seitan)steak with wine reduction, glazed carrots, and potato dumplings.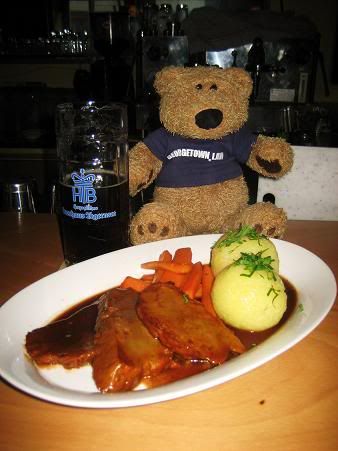 Kopfeck for me was Munich's saving grace as far as vegan food goes. It allowed me to sample traditional Bavarian meals and no animals were harmed in their making. The food was fantastic, and the place has a cool vibe.

*****

---

*****

Next - Some travel tips for Munich:
Wombat's City Hostel
Senefelderstraße 1
D-80336 Munich
This was my third time at this hostel. The main advantage of it is that it is right across the street from Munich's Hauptbahnhof (main train station), which is the major hub for all forms of public transportation (Tram, U-Bahn, S-Bahn, and buses). Also, it is a reasonable walk to the Marienplatz, the old town/touristy part of Munich. Plus, they have a fantastic bar that is packed every evening. Wombats is definitely a party hostel. If you have a hard time sleeping due to the racket made from young noisy European college weekenders, either do what I did and drink yourself to sleep, or stay somewhere else.
I bought an all-day city wide pass for all forms of public transportation for €5.20. This saved me hours of walking.
Here is a really good map because it includes all forms of public transportation, including bus and tram routes.
---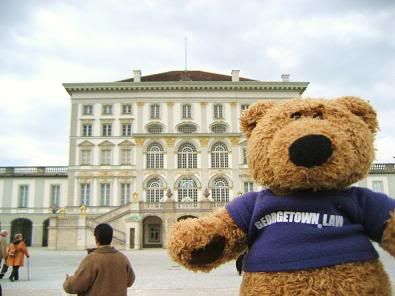 From the main train station I caught the west bound Tram #17 to
Schloß Nymphenburg
. The grounds and surrounding buildings of the palace are huge - comparable to the Louvre. Access to the first floor of the palace is €5, the botanical gardens are also €5, and you can get combination tickets (cheaper than €10). I mention this excursion to the palace in part because I've mentioned it to so many people who've been to Munich numerous times and hadn't even heard of Nymphenburg. Apparently it's one of the most overlooked gems of the city, which is sad. The grounds are lovely and despite the lack of complexity in architecture the palace is beautiful both inside and out. The official website of the palace describes it as "cube style", which reminds me of David Byrne describing the Veri-Corp building in the movie "True Stories":
"It's a completely cool, multi-purpose building: it's a box."
---
Next I got back on the #17 Tram headed the other direction and took it all the way around the ParadiesStraße stop. The advantage of doing this, as I saw it, was that I could tour a bit of the city from the tram.
I then followed my instincts, and followed loads of people through the English Garden to the Chinese Tower Beer Garden.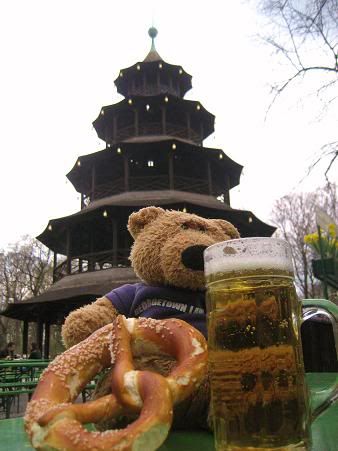 I've been to this beer garden before when it was much colder, and it still had loads of people outside drinking here. I love that.
---
One of the biggest draws in Munich is the Rathaus - the Town Hall. It's a short 10-15 minute walk from the Wombat's Hostel.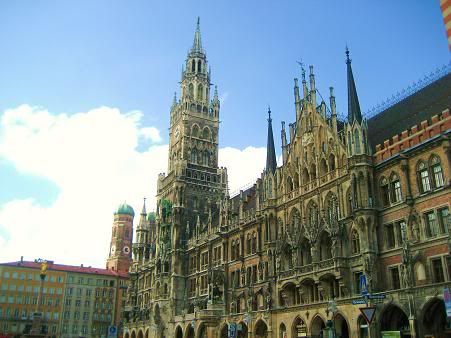 At 11:00AM Saturday morning the crowds were gathering to watch the Glockenspiel - the animated show depicting the marriage of Wilhelm V and dancing characters signaling the end of the plague. It's not exactly Disney's "Small World" quality animatronics, but it is over 100 years old.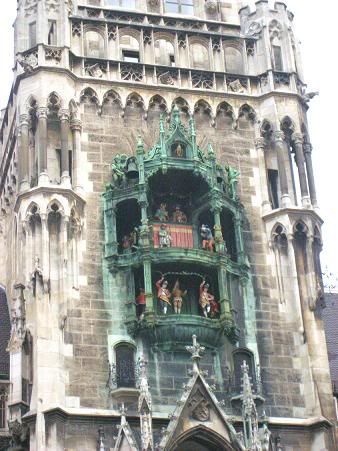 Hopefully these travel tips are helpful. I especially want to emphasize that the public transportation system is key, and very easy to figure out.
Prost!