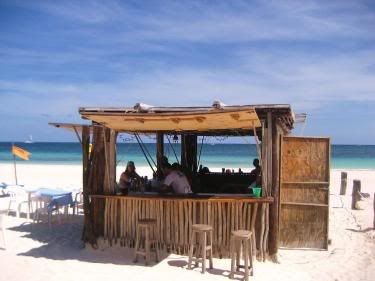 (Note: please click on the pictures if you'd like to see them in larger format.)
Puerto Morelos, Mexico is on the Yucatán Peninsula about 20 miles South of Cancun. It is a small fishing village that is not without its tourism, but a far cry from the decadance and excess of Cancun. With a gun to my head I would not stay in Cancun.
In the days before traveling to Puerto Morelos I had mentioned to family members and friends that I was soon traveling to Mexico. Many had quite the different response from I was expecting. Instead of envy and excitement I got reactions of shock and concern. It was as if I told them I was being airdropped to the front lines of a war zone with faulty parachute and armed with a nothing but Pixie Stix™ and a rabid chihuahua instead of going on vacation in a tropical paradise. To many who never venture outside of the US border, anywhere in the United States is safer than anywhere outside the US. This is sad to me.
Funny thing is, in this little town apparently it's so safe many don't bother to lock their doors.
I'm not covering every restaurant we went to as there were so many. I just want to highlight a few that had exceptional food, particularly the ones that had vegetarian or vegan items on the menu, plus some other fun things.
We rented a house that came with a kitchen. To save a bit of money we had breakfast every morning at the house. We bought some produce...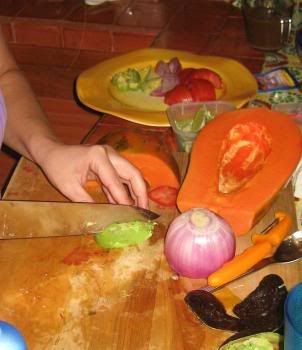 and locally made tortillas from a corner market.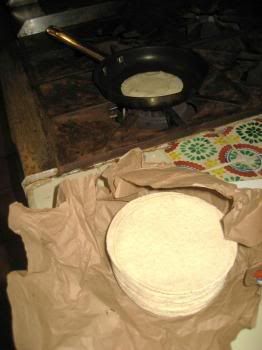 So we had raw-ish veggie tacos every morning for breakfast, along with some fruit. A time or two we also threw black beans into the mix. I didn't get sick of this. The dish was so simple yet tasty.
A very vegetarian/vegan friendly restaurant right in the town square is
La Terraza
. We took the slightly dangerous trip up a creaky spiral staircase to dine in a very nice rustic setting that overlooked the square. There is obviously some Indian influence here, but it is mostly Mexican food, and mostly vegetarian. The place is fantastic.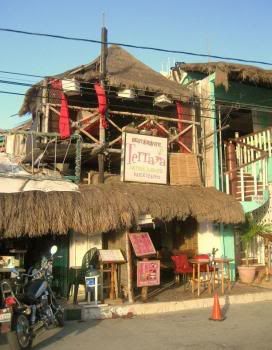 Below are soy chorizo and potato mini-tacos.
My girlfriend go these lovey tropical fruit, veggie, tofu, and falafal skewers.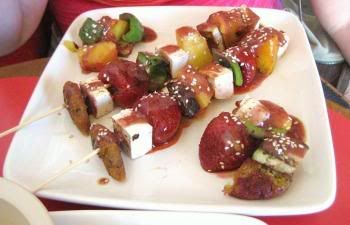 One of my favorite meals of the entire trip was this soy beef burrito.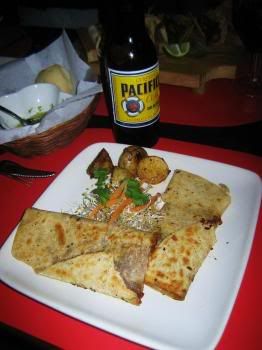 We took a private tour to visit the Cobá ruins. This pyramid is, at 138', the tallest on the Yucatán Peninsula. It is not, however, the tallest in the Mayan world.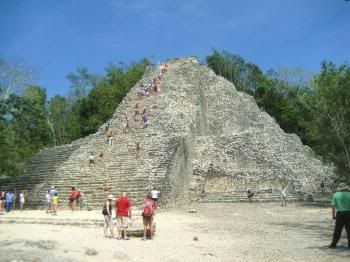 We had some tremendous luck in getting the guide we did. He lives in Puerto Morelos and used to own a seafood restaurant there. When he began his guide business, he collaborated with some family members of his former employees who are Mayan and welcomed us into their home for home-cooked lunch. We alerted Eric, our guide that my girlfriend and I are vegan, so he made some special arrangements for our lunch. Otherwise we would have gotten chicken.
He picked up some
nopales
(cactus or prickly pear) for us. They grilled them on an open fire right there for us in the house. The ceiling was blackened from the heat.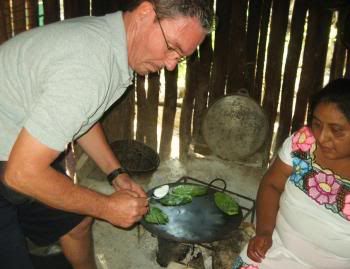 The home visit also included a mini class in making tortillas. The woman teaching us could, of course, make one in seconds.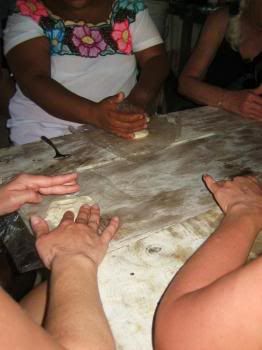 And here was the finished product: our tortillas, nopales, black beans, rice, and a lovely and spicy sauce to top with. To drink they gave us a very sweet hibiscus flower drink. No, that sippy cup is not mine.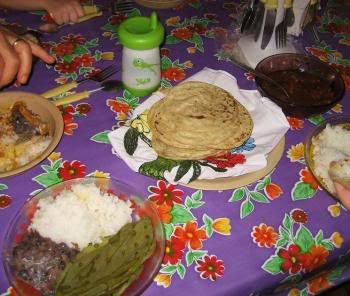 Back at home, we got some rum, pineapple, and coconut cream and Marya made some very delicious (and vegan!) piña coladas.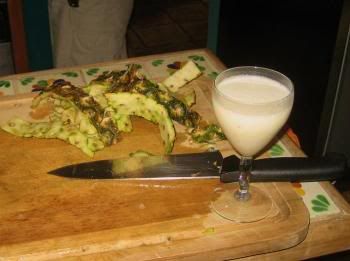 La Aldea is across the boardwalk from the pier, across from the
old lighthouse
.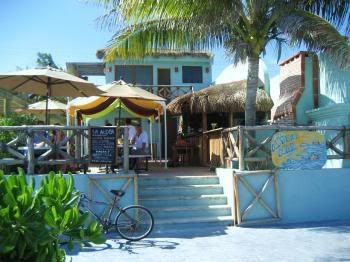 We couldn't believe our luck in finding this place. Not only was the food among the cheapest, it was among the most unique.
For 45 pesos (around $4US), Marya got these hibiscus flower tacos. Surprisingly, they had a very meaty taste and texture.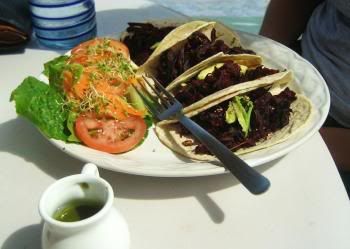 My dish here was this pozole, their vegan version of this traditional pre-Columbian soup. It is made of hominy and topped with many vegetables.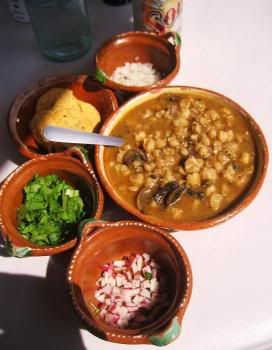 While sitting at this restaurant I decided to go over to the pier to snap some pictures of a pelican. A fisherman there was holding up a barracuda by its eye holes. Also on the pier was a bloody dead baby shark that lay dying. It was saddening.
On our final night we went to
Doña Triny's
Word had it, or if the local tourist leaflets were to be believed, this place had among the most authentic Mexican food in town. It is on the Southern end of the town square.
As you'll see, the dishes we ordered were likely far from authentic, but they were great and the service here was very friendly. Actually, every place in town had very friendly staff.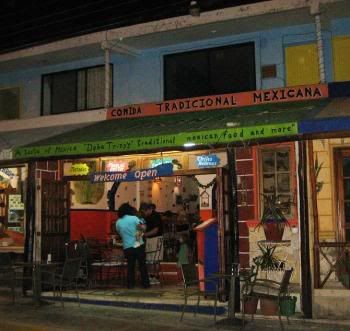 First thing we had was this tomato ceviche that I'd guess isn't exactly traditional, but it was nice they had such an appetizer in the vegetarian column. It was tasty but reminded me a little too much of ketchup (or mayhaps catsup?).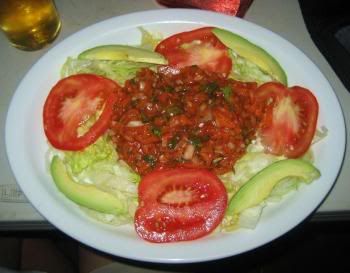 I got the stuffed portobello mushrooms with grilled calabasitas.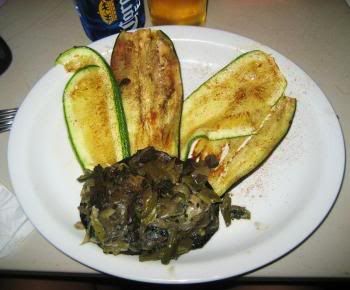 Marya got the stuffed nopales and beans. They came stuffed with the same thing my mushroom was stuffed with.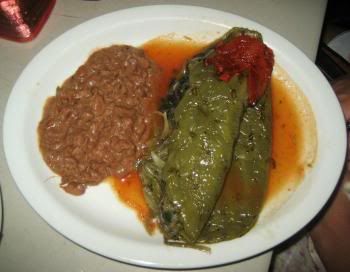 Afterwards we went to Los Pelicanos for some drinks. This picture may not adequately show it, but this margarita was about the size of my head. Oddly, as you can see in the picture, it came topped with an olive. Whatevs. The following day I was not much fun to be around.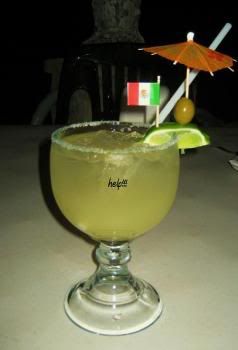 Puerto Morelos was a very vegan friendly town. They're obviously used to tourists and are willing to work with you to make something you can eat. If you don't see anything on the menu that's vegan, it helps to make a suggestion to the waiter, rather having him try to read your mind. Our fallback was always veggie fajitas.