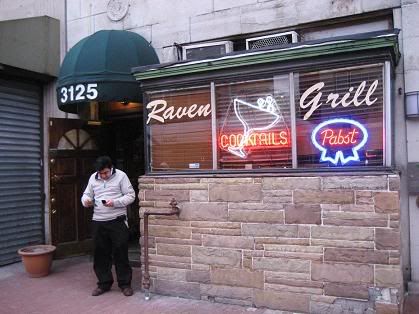 The Raven Grill
3125 Mt Pleasant Ave. NW 20010
Washington DC
(202) 387-8411
Alcohol:
Hells yeah!
Price Range:
$
Forms of Payment:
Paper, no plastic
Closest Public Tranportation:
Columbia Heights on Green/Yellow Line. Quoting from a Yelp reviewer: "If you had to take a cab here you don't belong here."
The Raven Grill is a cheerful little restaurant in Mount Pleasant. Unlike the recent movement towards recreating clandestine prohibition era hooch parlours such as DC's The Gibson or Chicago's The Violet Hour , The Raven Grill maintains its obscurity by hiding in plain sight. I know I've walked by this place dozens of times never noticing it. I hadn't even heard about it 'til I read about it on a local blog.
I'm not sure if The Raven Grill naturally an unpretentious little hidden away place where it never occurred to them to call the place a
"Grille"
, or if it's so pretentious a hipster hang-out that they intentionally left off that annoying "e" so as not to
seem
pretentious - sort of saying they're above such trappings. They do have a great juke box.
I'm happy to report that a full 1/3rd of their selections, at least at the time of my visit, are vegan. They have no printed menu as the options frequently change, but below is a display of their offerings on the day I popped in.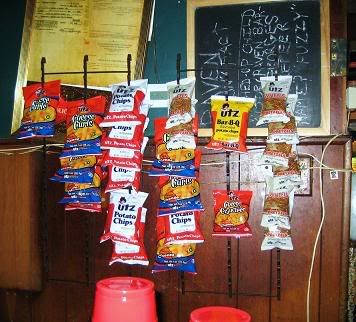 One cannot clearly discern the vegan options without close inspection of the food, which would be weird. So for your benefit, I have done the necessary research and am providing this handy guide below, to help with your vegan selections at The Raven Grill. Please click on the image to see it full size: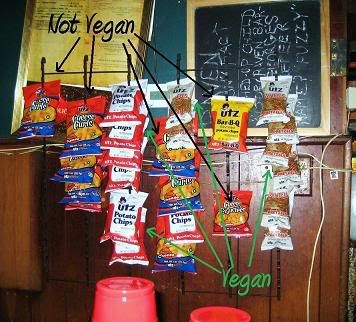 During Washington DC's Snowpocalypse they had sadly run out of food. Nothing even on display. The bartender apologized: "We're sorry, the kitchen is closed."
Oh, and they have a full and reasonably priced bar.