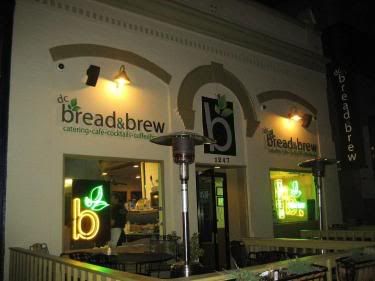 Bread and Brew
1247 20th St. NW (South of Dupont Circle)
Washington DC 20036
We recently attended the monthly
DC Vegan Drinks
at Bread and Brew. DC Vegan Drinks is a monthly get-together where local vegan folk can mingle, network, share ideas and suggestions, and
drink
.
Bread and Brew is not strictly a vegetarian place, but they do offer plenty of vegetarian/vegan options. Every year on Earth Day they do go completely vegan. Their weekend vegan brunch is fantastic.
It's a certified green restaurant and catering business. Their ceramic bowls and plates are hand-crafted locally, and when you get food to go or order catering from them, the packaging, plates, and utensils are compostable.
Also very cool: they serve some organic and some Fair Trade certified wines. Their beer selection is vegan, with the exception of one that has honey in it. The beer choices are excellent.
When we go here, we spend most of our time either outside on the patio or downstairs at the bar. Truth be told, the bar doesn't have a great deal of character. Almost none. It's the people who work here that makes the place so inviting.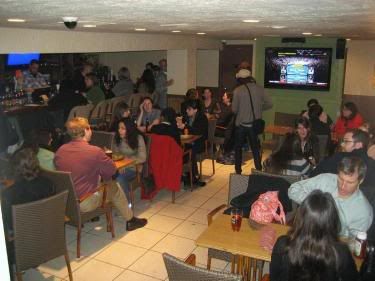 The menu changes daily and will include 2-3 vegan options. I'm told that recently they had a vegan beef stew, which I'm very bummed I had missed.
When we hold our DC Vegan Drinks gatherings here they provide us with an entire vegan menu.
I got the soy chicken curry with coconut rice.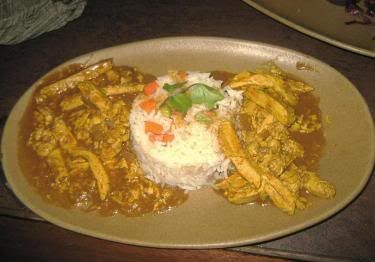 The chicken curry was good, but after sampling the vegan steak sandwich with soy cheese, peppers, onions & mushrooms that Marya ordered, I was wishing I'd gotten that instead. I've become quite the sucker for a good vegan steak and cheese sammich lately.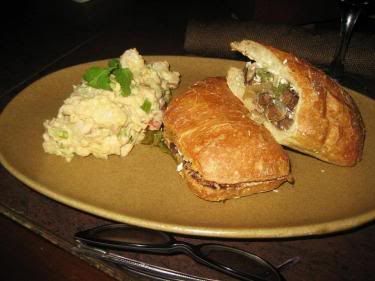 I'm happy to know that vegan cupcakes are a regular thing here. Pictured below are Red Velvet.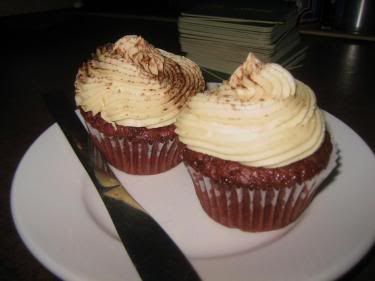 This was a special edition of DC Vegan Drinks - Gene Baur, co-founder of
The Farm Sanctuary
in Watkins Glen, New York, came to speak and read some exerpts from his book. After a brief Q&A, we bought his book and had him autograph it.