Spring is...sort of here in the Washington DC area. We've been able to eat on either our front porch or back patio a few times recently. We've heard that in the coming days it'll be back to near-freezing temperatures. Fizzer.
Anyway, here's some fun stuff we've made at home recently.
I ordered several cans of this Vegetarian Haggis as gag gifts for Christmas. You can find it at
Food Fight! Vegan Grocery Store
online. Now,
haggis
is something that would (or
should
) turn the stomachs of the most staunchest of omnivores. It is made from sheep's lungs, liver, heart, plus suet.
Thankfully the worst thing this vegan version has is hydrogenated fat. You wouldn't believe just how little Scotch was left in that bottle by the end of the evening.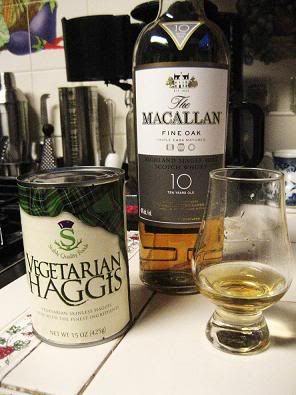 The back of the haggis can recommends serving it with turnips, mustard sauce, and Scotch. Marya prepared this meal, adding mashed potatoes, finding and veganizing recipes for the mustard sauce, and made Roasted Turnips and Shallots with Turnip Greens Soup from Bryant Terry's
Vegan Soul Kitchen
cookbook.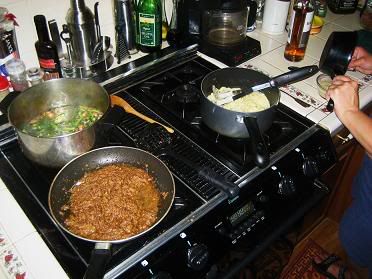 I was pleasantly surprised at how good the (vegan) haggis was. Fantastic meal all 'round.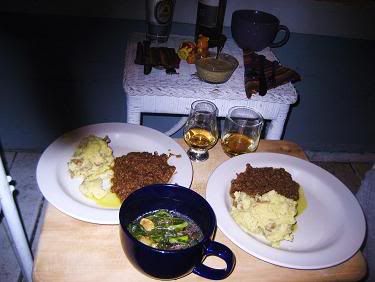 Next morning, bloody marys were necessary. Thankfully Marya makes the best bloody marys this side of the troposphere. I made tofu scramble with mushrooms and greens, roasted root vegetables (potatoes,
beets
turnips, and parsnips) with rosemary, tomatoes and parsley with zatar and olive oil, and sausage rounds. All the vegetables came from the Dupont Circle Farmers' Market.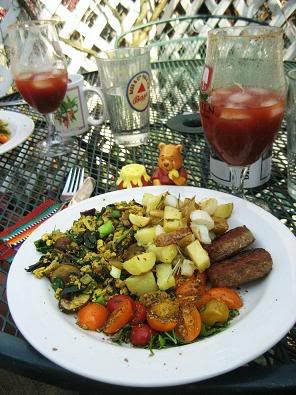 And on what is likely to be the last day of our brief Indian Spring, I made these wild rice crepes - one with shitake mushrooms and the other with spinach and pine nuts. The recipe came from
The Perennial Palate - The Third Feminist Vegetarian Cookbook"
(1993). Slow cook that I am, this took over three hours for me to prepare.