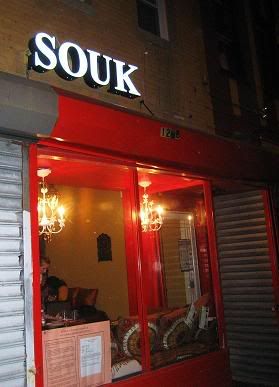 Souk
- A Pan-Mediterranean Tapas Bar
1208 H St NE At 12th St NE
Washington DC
(202) 658-4224
Souk is a new restaurant in the Atlas District of DC.
The Atlas District is on H Street in a region that was burned in the 1968 riots, and many of the buildings sat vacant for the better part of 40 years.
In walks a developer who decides to redevelop the whole area with reataurants, pubs, and a performing arts center. Perfect!
A friend of ours frequently performs in the Capital City Symphony at the performing arts center, so we're often in this area.
To get to the Atlas District via public transportation, hop on the X2 Metrobus or H Street Connector shuttlebus from the Gallery Place/Chinatown Metro Station, interdection of 7th and H Streets. The H St. shuttlebus is free, but with limited hours and is less frequent/reliable than the X2.
Among the pubs in this area are: a miniature golf themed barn a pirate themed bar, a carny/burlesque show/bar, Belgian beer/mussel, a boxing themed bar, a coffee/wine bar, Cajun pub, whiskey bar,and opening soon, a German Beer Garden and an Irish Pub. I you want it, it's probably here.
Souk is one of the few restaurants presently open on H, and among the three that has viable vegan options. Profiles ofthe other two forthcoming.
It's a cozy little place with dim incandescent lighting, much to my liking. The waitress was gracious with our questions and our food came out abnormally fast.
Pictured here is the falafal, hummus, dolmas (stuffed grape leaves), zaalouk (moroccan style roasted eggplant, tomatoes and olive oil), tabouleh, and a Lebanese Salad.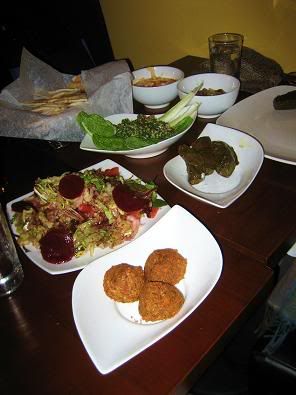 When we went here a few weeks ago after our friend's performance, it was a few days before Souk was to have their alcoholic beverage license hearing. By this point they've had it, and I hope it went well. I look forward to eating this yummy food with a glass of red wine.