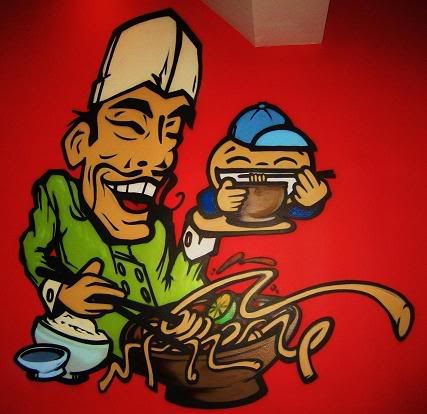 DC Noodles
1410 U Street NW
Washington DC 20009
(202) 232-8424
Click here for the menu
Note: You can click on the images to expand them.
First off, they had me at
noodles
. I can never seem to get my fill of them. One evening recently I looked back at the meals I had earlier in the day and realized I had three different kinds of noodles that day: soba, rice, and spaghetti.
DC Noodles has been open for at least a year, so it's a crime we haven't checked them out before now. Their Pan Asian menu includes Thai, Burmese, Vietnamese, Japanese, and Chinese influences in their dishes. They have noodle salads, noodle soups, and noodle entrees. There are a few menu items that do not include noodles, such as the seaweed salad.
The numerous vegetarian items are clearly marked, and it was nice to see on their specials menu that their vegetarian items do not have fish or oyster sauce. This
should
go without saying, but it's comforting to have that extra bit of clarification. Still, we peppered our waitress with questions. She understood our concerns.
We started off with the garden roll. I'd say that there was nothing spectacular about it, but I've never had a bad garden roll. These always make me happy.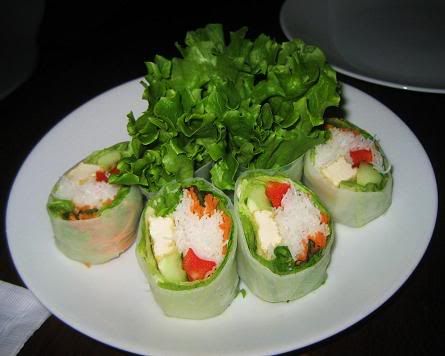 Marya tried the Tofu Drunken Noodle. I sampled a bit of it, and it was quite nice. There's something magical about this dish, wherever it is prepared, and I can't quite place it. The noodles and tofu seemed almost smoked or grilled. Just a subtle hint of it.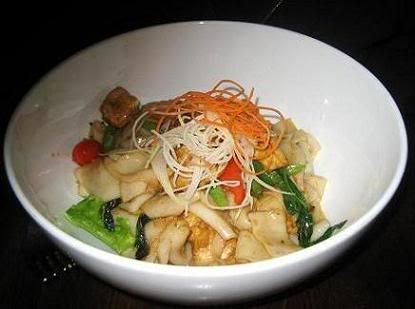 I got the Tofu Spicy Ginger Soup - one of their specials. It came with thin rice noodles and a lovely red broth that was indeed spicy but not in the least painful.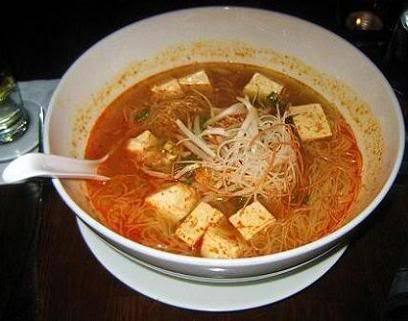 Most of the vegetarian dishes are $12, which to me seems a bit steep, considering it's usually a bit less everywhere else. They are in the high rent district, which might explain that. My dish was a bit fancier but Drunken Noodles is a common dish at Thai restaurants, and $12 seemed a bit much for it. But the cost is my only minor complaint. Friendly staff and great food. And you can't go wrong with noodles.