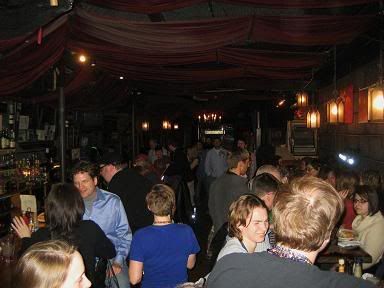 DC Vegan Drinks: DCVeganDrinks.Org
is a monthly social gathering and networking event of vegans and the vegan-curious. For anyone who'd like to get together with fellow vegans or those who aren't (yet) vegan and just want to come and hang and check out vegan food and peeps, you're always welcome to come join. Click the above website for details on the latest meetup.
I see these events as fitting for two reasons:
a.) It seeks to fight the stereotype that vegans are completely health obsessed and don't like to party
-and-
2.) DC is a party town, and who better to party with than those who share many of your own values.
Oh, yeah, there's:
III.) It's one party we can go to where we're guaranteed to find food we can eat.
Most often the monthly meetup is held at
Bread and Brew
, a place I've yet to report on. This month it was at my fave place,
Asylum
in Adams Morgan, conveniently on a Tuesday when it's buy-one-get-one-half-off-vegan-items night. Plus, they had special $5 vegan White Russians.
Also, being Mardi Gras, bartender Shane had some great Mardi Gras drinks worked up.
Here is one of his mixes, apparently a neo-traditional Mardi Gras drink appropriately named "Hand Grenade". If I recall correctly, he mentioned it has mellon liquor, gin, vodka, and rum. He did caution it'd make me do weird things.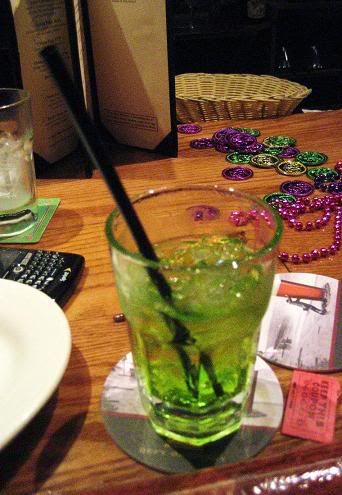 And weird things I did - I stumbled out of the place and kicked this ice chunk the 10 or so blocks home. I even felt the need to document the thing's journey, photographing it in the center of the street on each block. Here's just one of the many photos of the ice chunk I found on my camera the next day.