Looking out my window today in Washington DC, I can see that we've already gotten more than 3 inches of snow...on top of the 28 or so we'd already received over the weekend. And we're expecting 8+ more inches.
A year ago today my girlfriend Marya and I were in Tulum, Mexico. When we returned from that trip Marya suggested I start a blog on vegan travel. Ten months later I started it, and now I'm just getting 'round to writing about our brief backpacking trip through a small part of Central America.
Note: on all pictures you can click on them to expand them.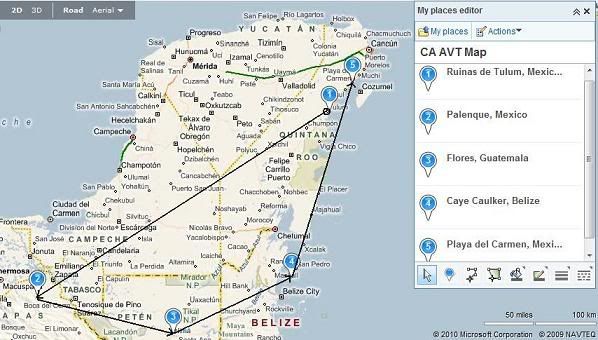 Tulum: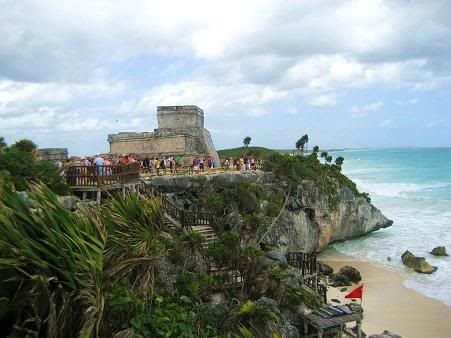 We landed in Cancun and made a quick exeunt to the town of Tulum, site of the ancient Mayan ruins by the sea. We stayed in a rustic "hotel" called
Papaya Playa
, 1.5 hours SouthWest of Cancun and 2 miles South of the Tulum Ruins. It doesn't have the usual niceties of the typical Cancun resort, such as windows or indoor plumbing, but we loved it here. This is where the locals come for vacation, that was obvious. In places like Cancun, the locals cannot enjoy the same resort areas sectioned off for the tourists. I would hate vacationing somewhere where there is such a cultural barrier.
Cabaña #38 came with all we needed: a bed, shutters, and mosquito netting.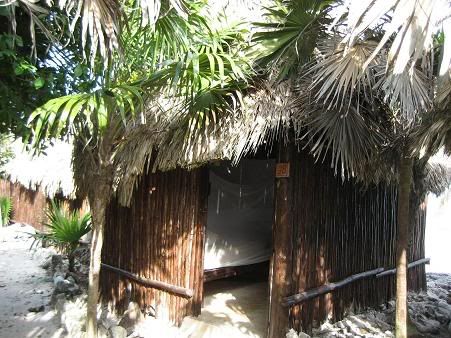 The restaurant on the Papaya Playa premisis provided us with fresh fruit for breakfast: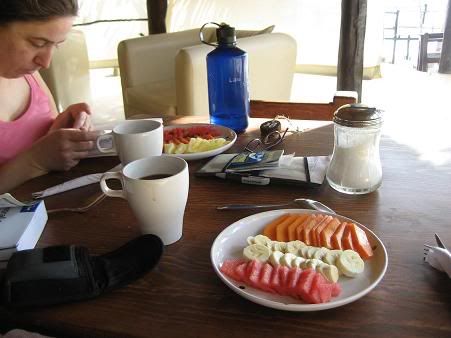 And veggie fajitas for lunch: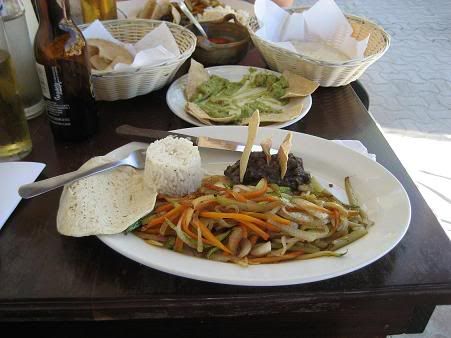 Papaya Playa is about 2 miles from the town of Tulum, and it was easy to flag down cabs from the road.
At the restaurant called either "The Captain" or "El Capitan" we got this lovely dish - vegetables and mole (pronounced "mo-lay") sauce - an odd yet tasty chocolate concoction that is not a dessert item.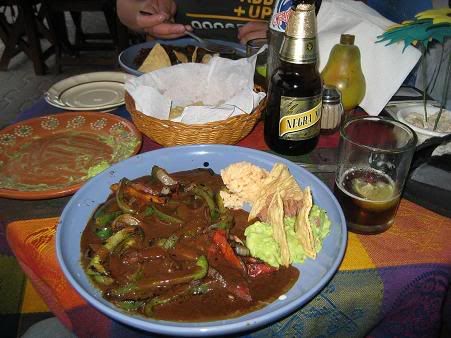 A word of caution: it is important to ask if a dish contains cheese, even if the dish would not normally come with it.
When options were few we lived off of guacamole and beans, and learned quickly that they would come sprinkled with cheese unless we asked that the dish be served without it.
Palenque:
Next, we took an overnight bus to Palenque in the Chiapas region of Mexico. The picture below is the Temple of the Inscriptions and contained the far-below-ground tomb of Pakal. The sarcophagus from the tomb is in the museum near the entrance of the ruins, where they quite nicely attempt to recreate what it was like for the archaeologists to discover Pakal's tomb.
Palenque was in its heyday in the seventh century. I do wonder if the mansard style roof of the palace tower was the inspiration for the design of McDonald's iconic buildings.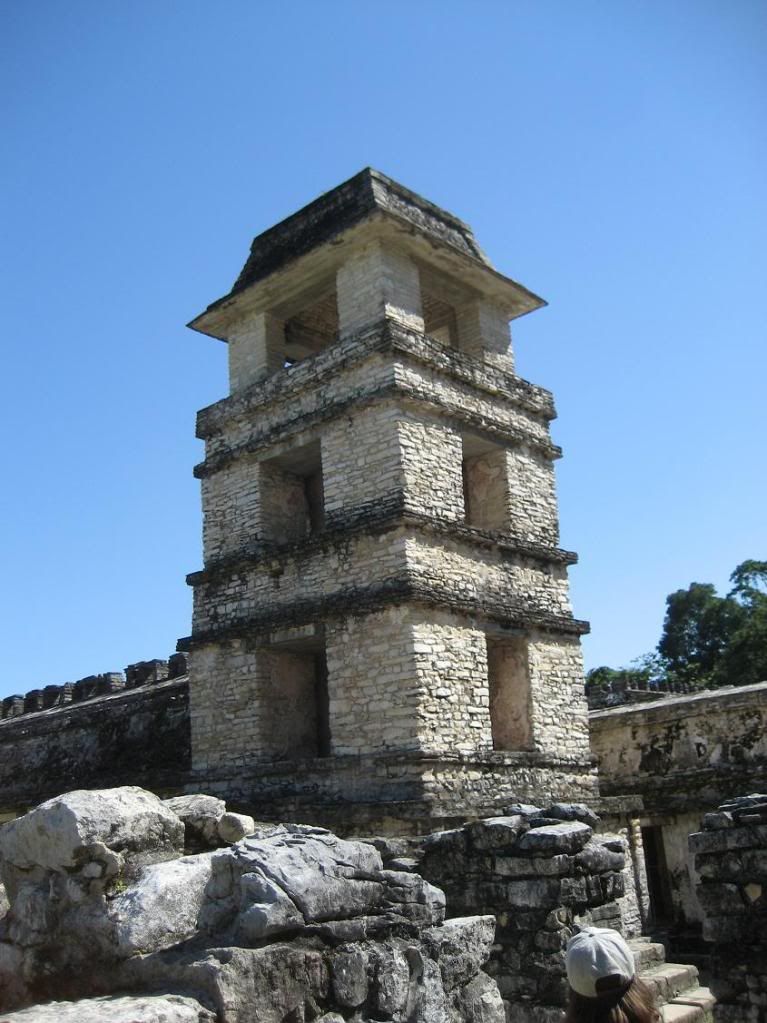 Exiting the gate to the ruins on the right is a hostel called El Panchan with a restaurant called Don Muchos. They did not offer much in the way of vegan food, but thankfully a very patient waiter had the chef prepare us rice-wrapped tortillas covered in mole sauce. We were overjoyed that they were so accommodating, and the dish was fantastic.
Flores/Tikal:
Next stop was the island of
Flores on Lake Petén Itza
, in the Petén department of Guatemala. Our hostel was
Los Amigos
, which had at the time the only vegetarian restaurant in Northern Guatemala. It doesn't appear from their website if they still strictly vegetarian, but I'm checking on that.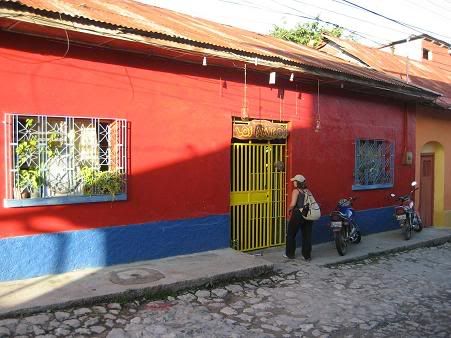 The interior had a nice jungle feel to it. A lot of work went into making this place the urban paradise it is. If you go here, just be aware of their "natural showers" - no hot water.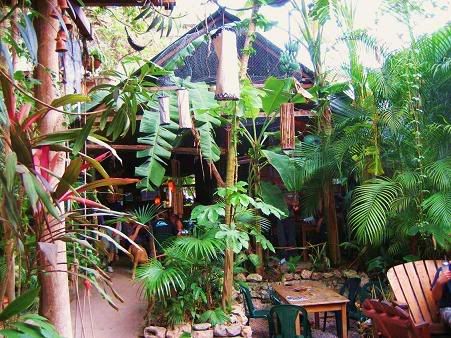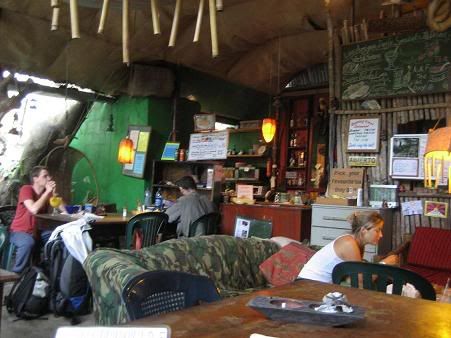 I got some lovely brochette with rice, black beans, and avocado slices.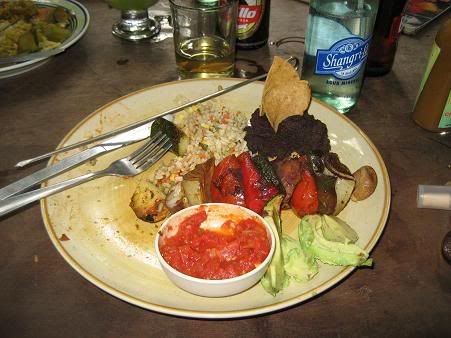 Marya got a coconut curry dish with mixed vegetables.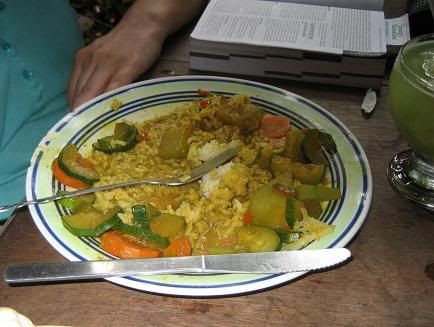 And perhaps the most amazing discovery of the whole trip: for 10 quetzals, (about $1.20) Los Amigos will open a fresh chilled coconut for you and hand you a straw. For an additional 10, they will give you a shot of rum to pour into the coconut. So simple yet so fantastic: coconut water and rum.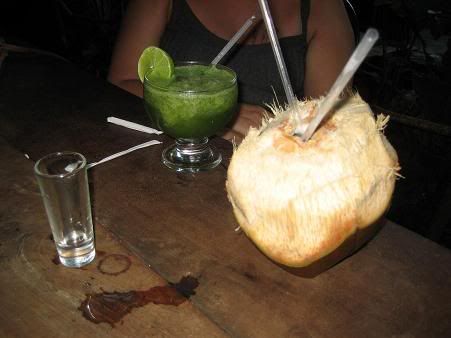 We had a bad experience when we saw on a restaurant menu something called "Carne de Soya" - literally translating to "Beef of Soy". We couldn't believe our luck, so we had to try it. The dish took forever to prepare. Once we got it, we discovered that "Carne de Soya" was
intended
to mean "Beef maranated in soy sauce". We were totally fizzed over this.
The point of us stopping in Flores was to visit the nearby
Tikal ruins
, one of the largest Mayan sites. The image below is of Temple V, at 190' tall.
This next image is from atop Temple IV, the tallest of the temples at Tikal at 230'. It is dizzying up there, but worth the rickety wooden staircase climb to get to the top. This scene was featured in the original Star Wars, where the Millenium Falcon landed after it had escaped the Death Star.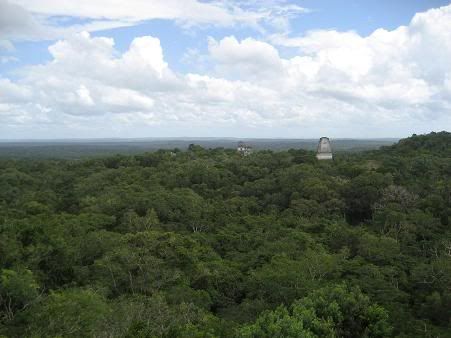 Caye Caulker:
Next, we took two buses and a boat to get from Flores to the island of Caye Caulker off the coast of Belize. Caye Caulker among the smaller and less touristy of the Belizean islands. The place was amazing - no paved roads, and we saw only one truck on the island. Most get around with either bipedal transportation or the use of a golf cart. The water was clear blue and warm.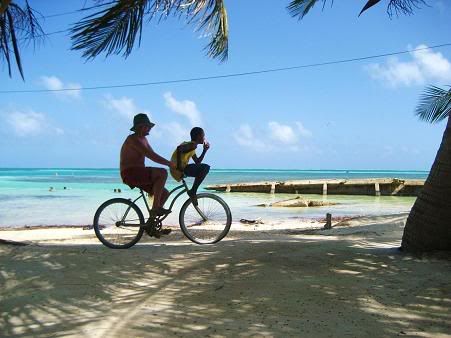 The food options here looked great, if you eat seafood. Of course we don't, so once again we relied on our stand-by items of guacamole, beans, fruit, and beer.
We did get some good meals in a few places, including this sauteed veggie wrap thingy with a side of beans. I can't recall the names of any of the places we went (this was well before the idea of starting this blog), but I'll say that it seemed possible to negotiate with all of them for animal product free meals.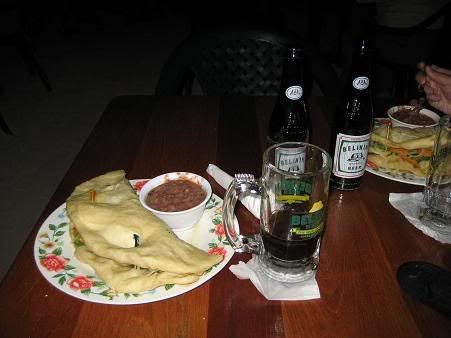 And then there's the rum. There's a full line of rums from Belize, including light, dark, coconut, and this strong stuff. We brought this stuff home. At 190 proof it's barely potable.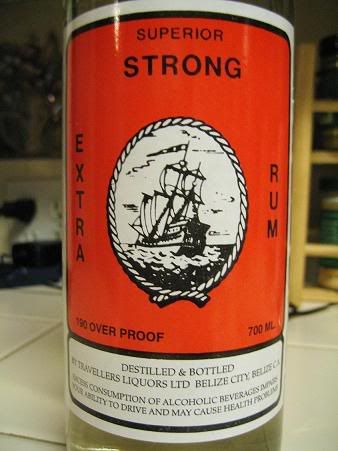 Playa del Carmen:
Next and final stop before the airport was Playa del Carmen. We didn't want to stay in Cancun, fearing the tourist hell it'd be. So we stayed in the second closest town to the airport, as we had to catch a flight early the next day. What we got was tourist hell light. In Playa, there were only two types of people: fat white American tourists and the Mexican folks who served them. Everyone spoke English; it seemed like an extension of Miami. There were few food options here for us - so we resorted to an Italian restaurant where we knew we could at least get marinara sauce on pasta. Of course when we travel to a different country we want to sample the (vegan) local fare, but when the options are along the lines of Bubba Gump Shrimp, TGIFriday's, and a Japanese steakhouse, we took what we could get.
I didn't get a picture of the food, but I did get a shot of one of the most absurd gift shop items ever: a San Francisco 49ers poncho. In Frank Zappa's honor, I will not quote him here.