Road Trip January 16th-18th, 2010
:
I hadn't seen my friend's parents in years since they moved from Hamilton, Virginia down to Bristol, Virginia. So when we got the invitation to go to the father's 80th birthday party, we seized the opportunity to celebrate, visit with friends, and do some vegan road tripping. From Washington DC, Bristol is about a 6 hour drive. Google Maps tells us this.
Armed with a (tap) water bottle and some road snacks (
Primal Strips
, tamari almonds, Tofurkey jerkey, dried papaya strips, and a Panda licorice bar), we began our journey at 9:30AM. We got a late start after a fun time trying to persuade Enterprise Car Rental that we did
not
want a minivan after we had reserved a Yaris.
Thanks to a great deal of research (done by my girlfriend Marya), we had our breakfast spot picked out. So 2.25 hours and 132 miles along, we stopped in at the Little Grill Collective in Harrisonburg, Virginia.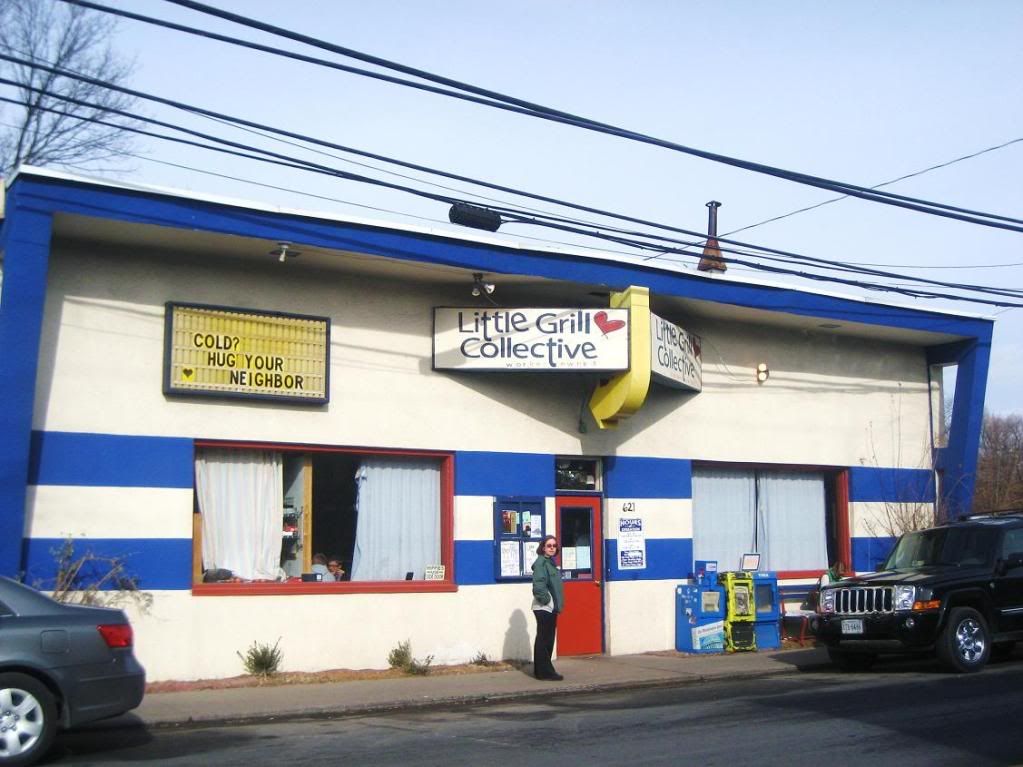 Little Grill Collective
621 North Main Street
Harrisonburg, Va 22802
Harrisonburg is home to James Madison University, and it's a safe bet that there will be vegan options in a college town.
The Little Grill Collective has been worker owned since 2003. Packed as the place was, it had a very welcoming feel to it. The employee owners were all very friendly, and it's always comforting when they are familiar with the word "vegan". Another great thing about this place: Fair Trade Coffee!!!
There are 5 vegan items on their breakfast menu. I chose the Lambert's Platter, which had tofu scramble, toast with margarine, house made soysage, and home fries with (they seriously call it this) groovy gravy.
The soysage was thin and had the consistency of an undercooked pancake, and overall seemed like a vegan version of what one might call scrapple or...puddin'. It tasted fine, though, and one nice touch to it - I could see whole fennel seeds in it. The tofu scramble concerned me at first, only because it looked like other tofu scrambles I've had where they've just cubed it, put turmeric in, and sauteed it for a few minutes. The scramble here turned out to be very good - among the best I've had.
Marya had the Flaxjacks and some soysage. She isn't a big pancake fan, but loved these. And with flaxseed in them, it's got to be the healthiest pancakes ever.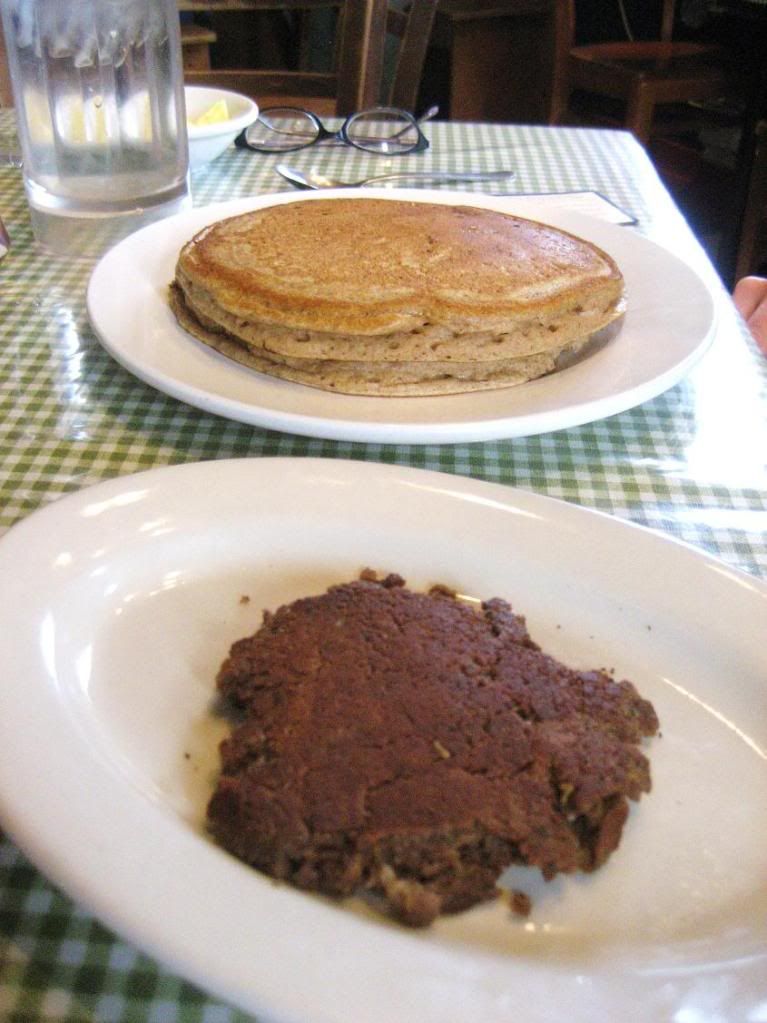 A final picture from the Little Grill for anyone who's a fan of Nine Inch Nails. If you're unable to make it out, the brand of heater is Reznor and someone with a keen sense of humor had written below it "Pretty Heat Machine". This will surely be lost on those unfamiliar with the work of Nine Inch Nails.
We continued down the road and ended up in Bristol at 4:30FM. After initial greetings and birthday wellwishes, the topic quickly turned to food. "Would you like to eat now?", our friend Nikki asked. "That sounds lovely" we replied, practically in unison.
Thankfully our hosts knew of our dietary restrictions and planned ahead nicely for it. Nikki had prepared us a tofu quiche with spinach. She pulled the recipe from
VegWeb
, which is a trustworthy source for fantastic vegan recipes. Here's the recipe she used, with some modifications.
Click!
The quiche was fantastic. Not to spoil the rest of this blog entry, but Marya and I agreed that this was the culinary highlight of the trip.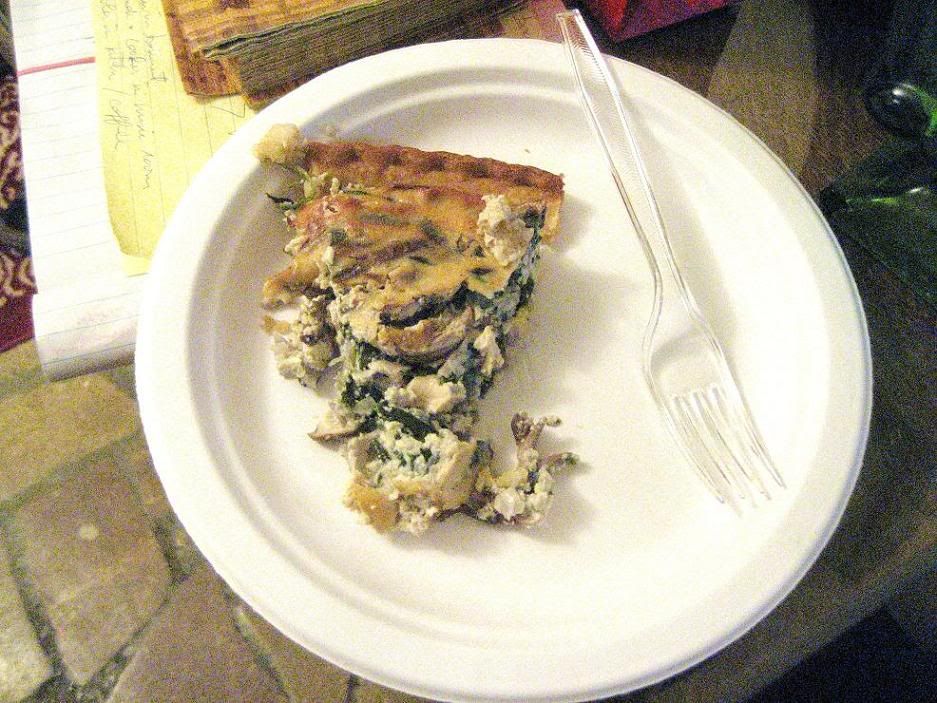 The next day we headed north...east, towards Charlottesville. About 4 hours, many tamari almonds, and a package of Tofurkey jerky rounds later, we arrived at the
White Pig
Vegan Bed and Breakfast in Schuyler, just south of Charlottesville. More on White Pig in a bit.
After checking in, we decided to go to the innkeeper's recommended restaurant, Ming Dynasty, which is a big supporter of Charlottesville's Veg Fest each year. Also, they had lots of mock meat options, which is always enticing to me.
Here are their vitals:
Ming Dynasty Restaurant
1417 Emmet St N
Charlottesville, VA 22903
One somewhat frustrating thing here was trying to ensure our food did not have egg in it. Several times the waitress would say "It's got a little bit of egg in it. It's okay?" Err, no, it is not.
We got some (hopefully egg-free) vegetable dumplings that looked like works of art.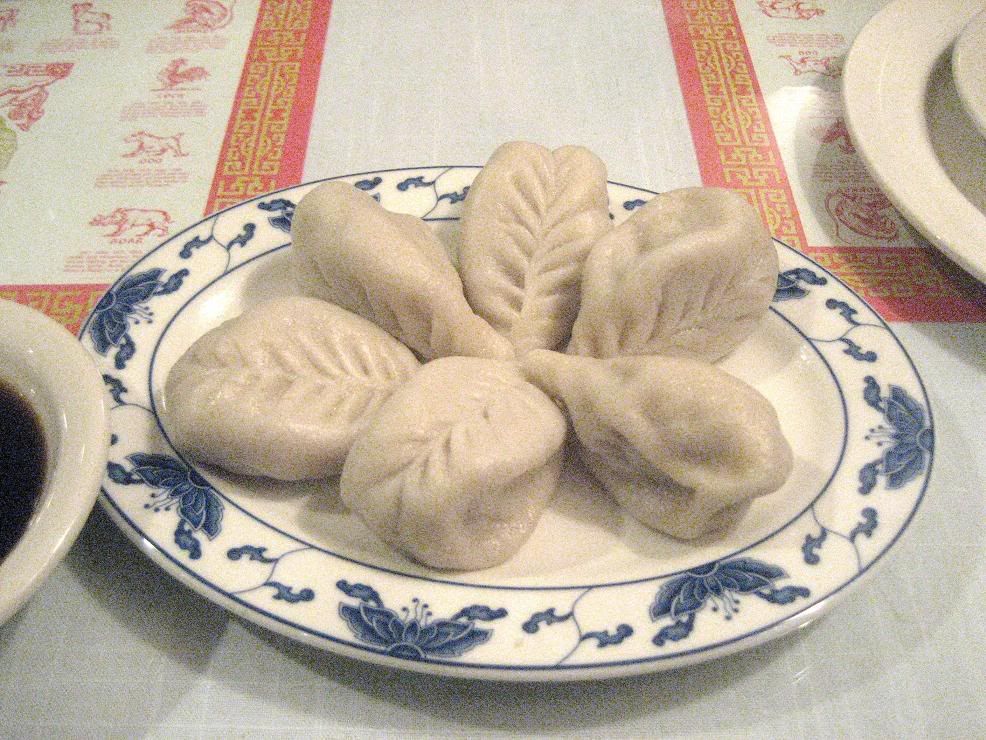 I got the beef with garlic sauce. It was delicious, but the beef was a bit on the gummy side. I started wishing I'd ordered the tofu and chinese greens instead, thinking I really should cut down on the overprocessed fake meat stuff anyway.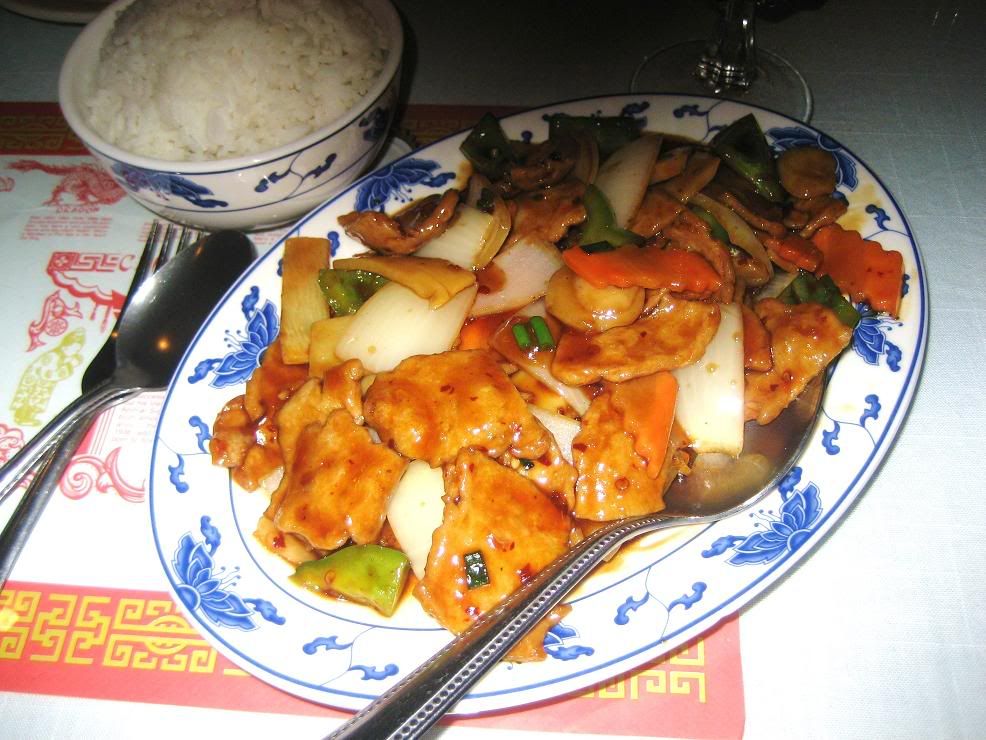 Marya opted for the vegetarian Kung Pao Chicken. The chicken certainly looked convincing, and although it didn't taste like chicken (words you've likely never heard), it was good.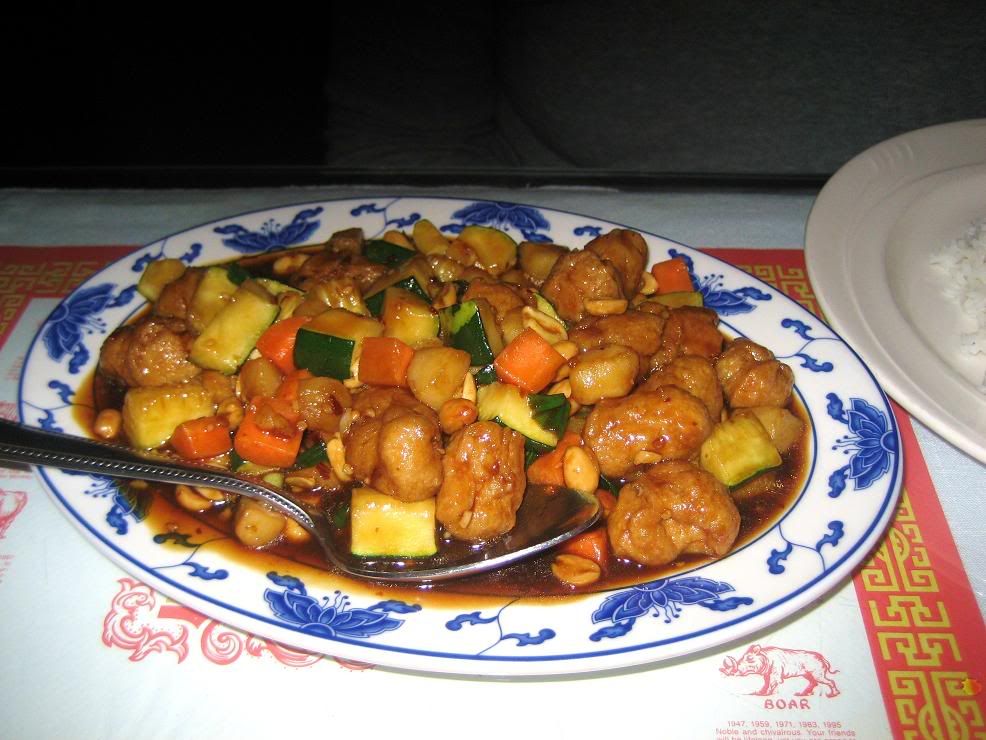 The next day we woke up at The White Pig.
Here are their vitals:
The White Pig Bed and Breakfast
5120 Irish Road
Schuyler, VA 22969
Schuyler, VA is the town that inspired the television series "The Waltons", and the location of the Waltons Museum.
The B&B is on a secluded stretch of land about 1/4 a mile from the road.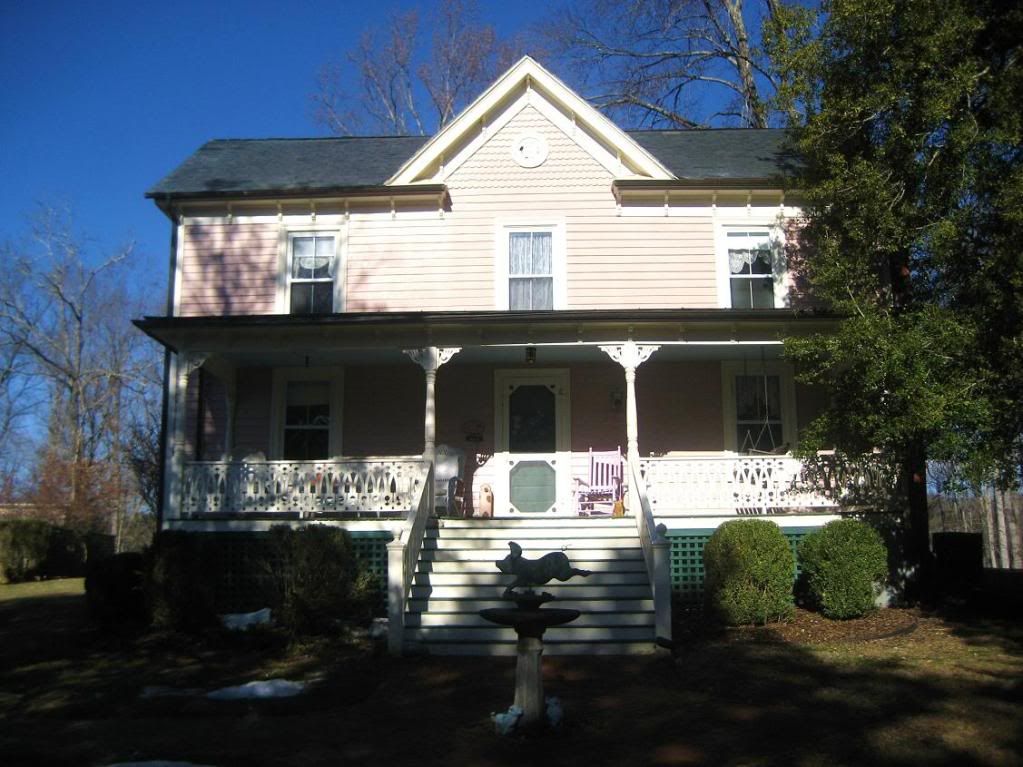 The B&B is also a potbellied pig sanctuary. Apparently too many people get potbellied pigs as pets, then when the pigs reach 400lbs, the owners take them to the pound. That's where B&B Owner Dina comes in. She'll go rescue the pigs and bring them to her ranch. The sanctuary is funded by the proceeds from the B&B.
The B&B is beautiful, nicely finished and decorated, and probably holds the record for pig likenesses per square inch. The house itself is painted piggy pink.
The picture below is of the towel racks in our bathroom.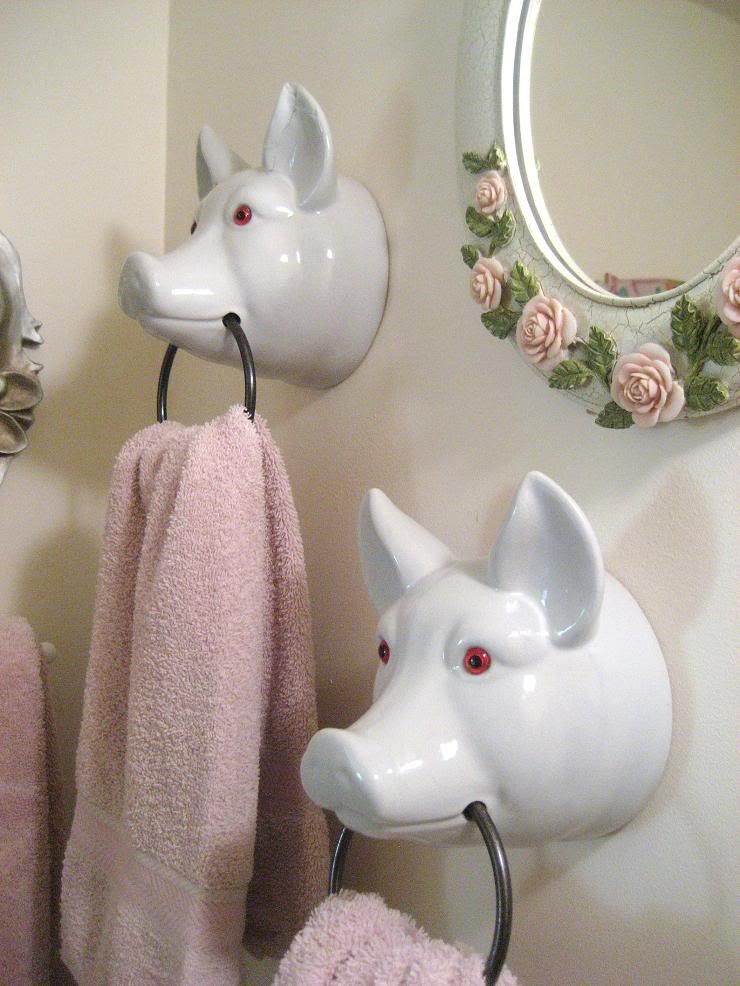 For breakfast we had grapefruit, followed by blueberry pancakes. I must admit, I'm not a big fan of pancakes, and knowing that the innkeeper/chef is very well school in the culinary arts, I was hoping for something a bit more substantial. Something like tofu scramble that would surpass my own recipe. Having said that, the pancakes were the best I've ever had.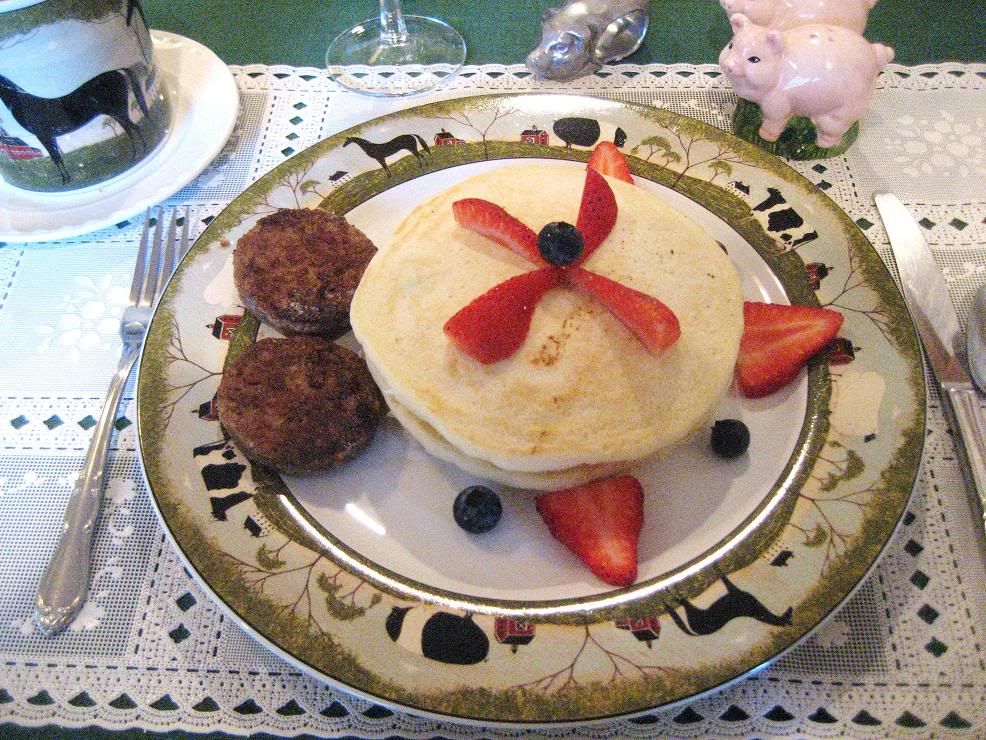 I should also mention that the Charlottesville region is well known for having dozens of boutique wineries. At the B&B, Dina sells wine from Mountain Cove Vineyards, whose wines are all vegan. You didn't know wine is quite often not vegan? Well, sit down - this may hurt. Many wines, particularly whites, are clarified with egg whites. Truth is, it's probably impossible to tell which are vegan without a great deal of research.
After we ate, we wandered over to look at the pigs. There are currently 12 pigs at the sanctuary.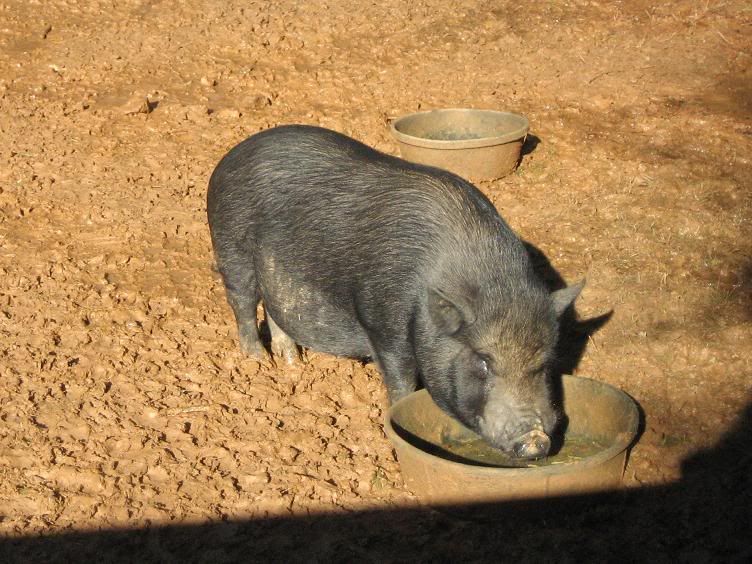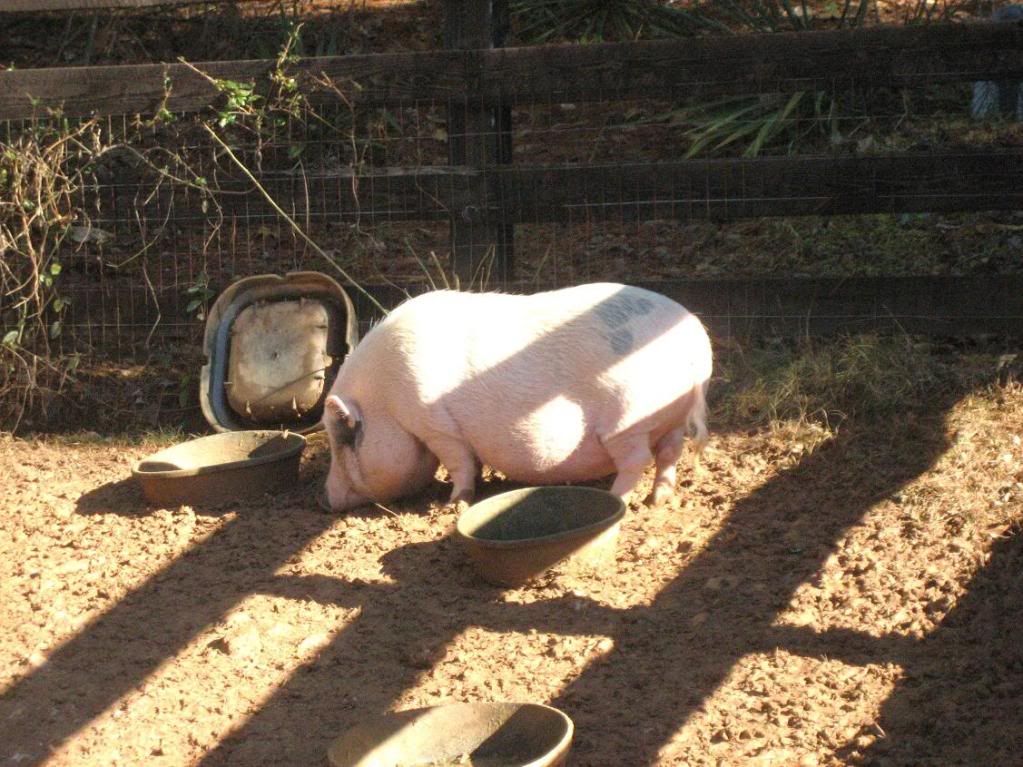 Next we went onto Jefferson Vineyards, which is at the foot of the hill where Jefferson's Monticello sits. We don't know if the wine is vegan.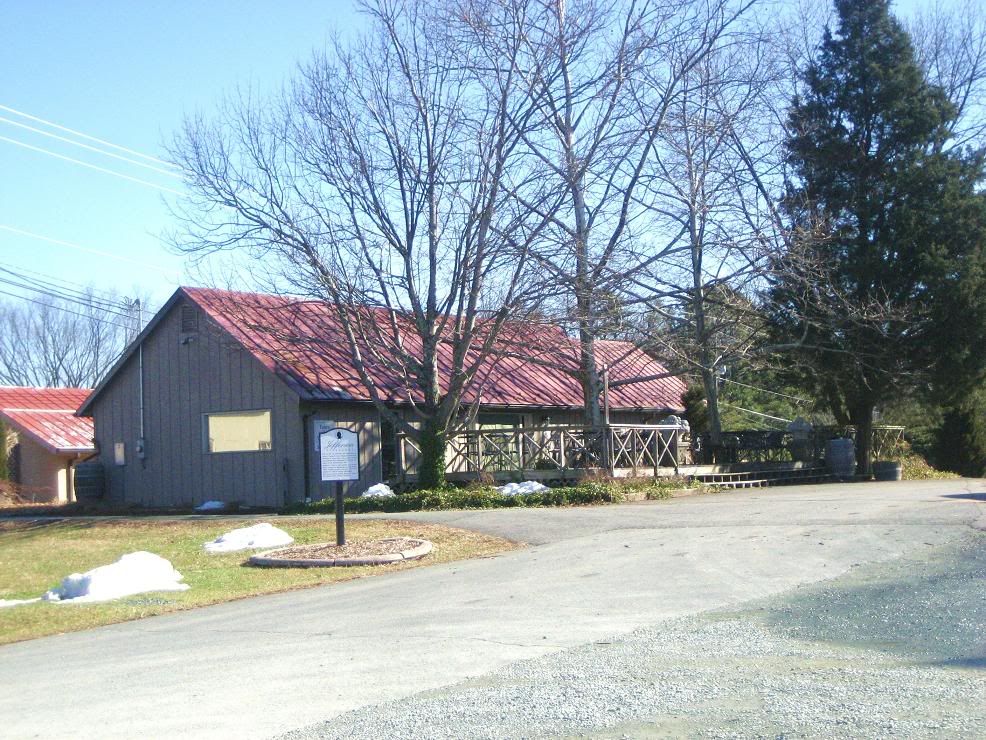 We then headed onto Ash Lawn Highland - home of President James Monroe. I will say that his home is not nearly as grand as Jefferson's or Washington's, but still a nice trip. I was disappointed to hear that Jefferson had told Monroe that his slave quarters were too nice. I was further disappointed to learn that this convinced Monroe to build shabbier quarters for his slaves.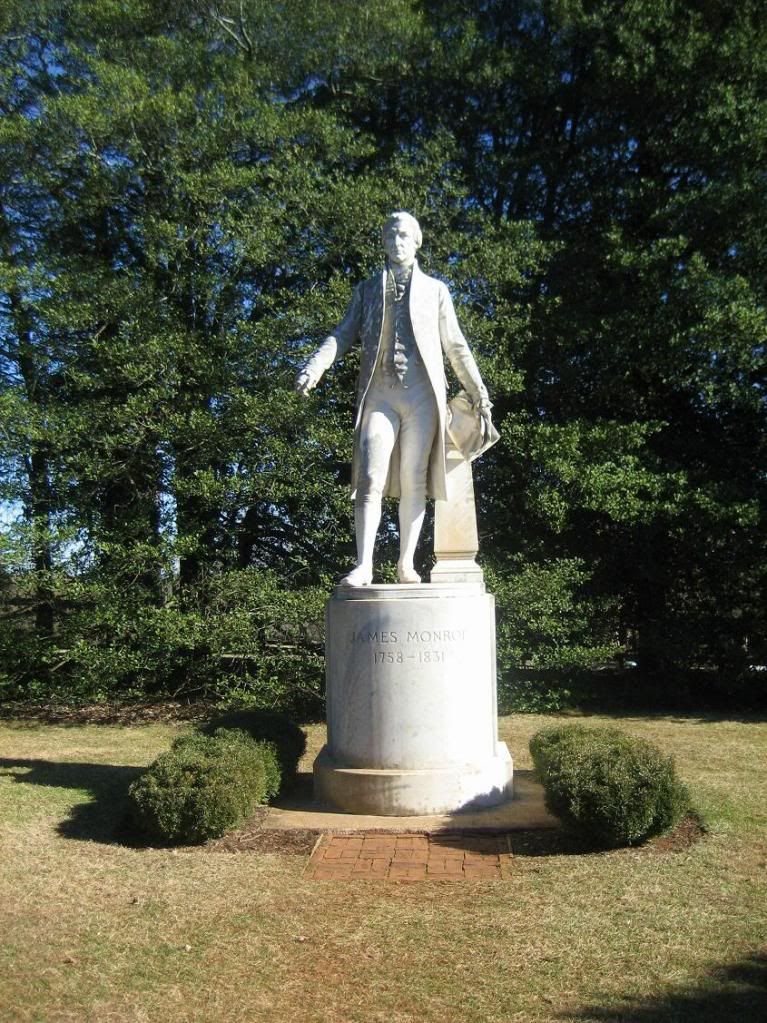 We don't have a car, so when we have one rented for any reason, we try to combine the trip with a trip to the more out-of-the-way grocery stores. Among others, we went to an Asian grocery store before heading home. I will be good on hoisin sauce for the next 5 years.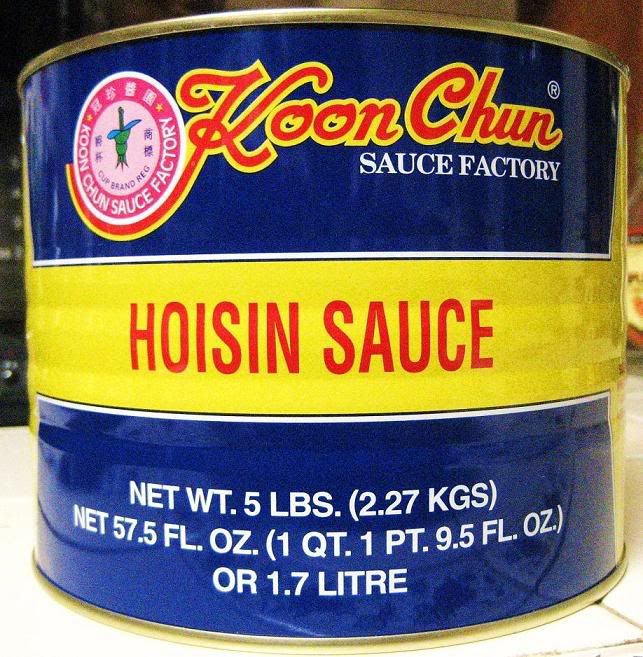 When we got home, we ordered a vegan pizza from Duccini's, but that's a story for another day.