Galaxy Hut's official Website
Their Menu
I've been going to the Hut off and on for about 14 years now, and its charm has not worn. Maybe a little, but it's making a recovery since the smoking ban went into effect.
The place is small yet still has room for bands to perform. The decor is amazing, from the painted ceiling tiles and hip wallpapered-and-poly coated decorated tables to the fantastic local artwork on the walls and tabletop videogames (Ms. Pacman, Galaga, and a pinball machine). Not sure how to categorize it. Dive Bar? Hipster Mecca? Just plain cool? They have 20 unique beers on tap and 30 bottles. They don't serve liquor, but that's never been a prob for me. Their menu features loads of many vegetarian options that, with little effort, can be made vegan. I was going here 11 years before even going vegetarian, so I really have not payed attention how long this place has been so veg-friendly.
On previous trips here I've had their IPA cooked veggie dogs with saurkraut and TVP chili.
This trip I tried the seitan bbq sammich with tots. I declined the non-vegan slaw. For $8 it might not be the best deal, but w/ vegan slaw it would be. The sammich was basic pub-fare tasting and size, but I still felt as if I was getting guilty pleasure out of it out of it. Plus, when I come across these gems money is hardly a concern.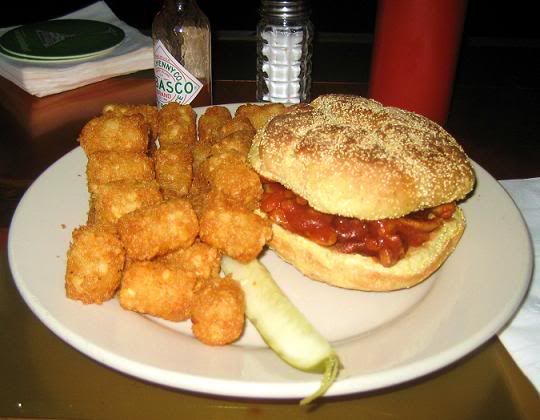 The other vegan offerings include a black bean burger, chili-mac (w/ no cheese), a seitan cheesesteak w/out cheese, and a salad w/ a wedge of iceburg lettuce, veggie bacon and vinagrette.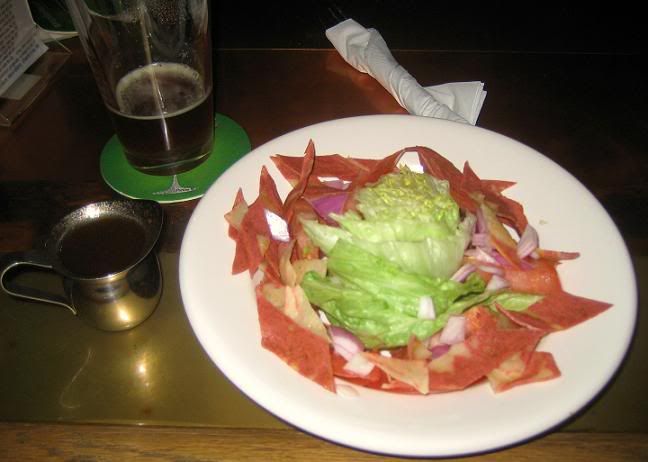 I ended up adding the wedge salad to my bill.
Many of the dishes could be vastly improved with the simple availability of vegan cheese, sourcream, and veganaise. Mayhaps I will suggest this. The problem with making such suggestions is that if they start carrying these items, I'll feel the need to visit them weekly. I think I'm okay with that.
They also have my new favorite beer - Duchesse de Bourgogne Flemish red ale. If it's not vegan, please don't tell me.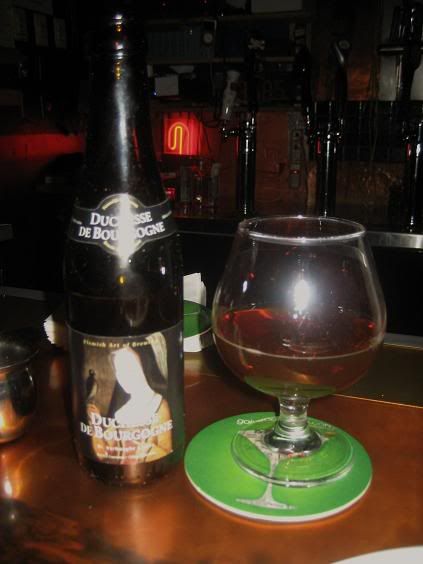 * Side note that has nothing to do with the blog: Having a mostly black ensemble and getting dressed before sunrise and w/ no lights on, I had put on mismatched shoes this morning and didn't realize it 'til I got to work.
***Update!!!
The morning after I submitted this post I thought I'd check to make sure the Morningstar Farms bacon used in the salad I had last night was vegan.
It is not.
Doh.