Chinatown Garden
618 H St. NW
Washington, DC 20001
Menu
For a Christmas present my gal got me some tickets to a Caps game at the Verizon Center, about 20 blocks south from us. It was the Caps vs. the Ottawa Senators. At the beginning of the game an announcement was made that if the Caps scored 5 or more goals, all ticket holders would be eligible for 10 free chicken wings at Glory Days Grill. We put this in the back of our minds through most of the game. After the 4th goal was scored, the kids sitting in front of us began yelling "We want wings! We want wings!!!" Then, in 4 foot high letters on the jumbo-tron flashed the words "We", then "Want", and "Wings!!!" in such a rhythm reminiscent of the intro foot stomping/hand clapping in Queen's "We Will Rock You"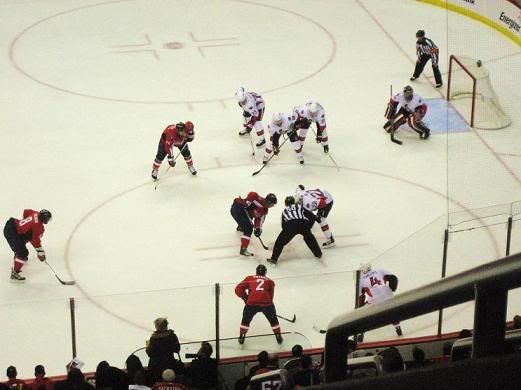 Suddenly we didn't want the Caps to score anymore this game. They did, finishing the game at 5-1, sentencing thousands of chickens to death. Yay.
This is just part of the fun we can't participate in during live sporting events. They also come around and give out Papa John's pizza and Chipotle burritos we can't eat.
---
After the game we went to Chinatown Garden on H Street. The draw for us is their extensive mock-meat selection on the "Chef's Recommendations for Vegetarians" section of their menu.
As Chinese food goes, it's a bit more expensive, but for me it's well worth it getting to have some of my old favorite Chinese dishes veganized.
I had the home style pork, which was spicy and had some good veggies in it. The pork was a tiny bit rubbery, but it tasted quite good (I'm sure it wasn't real pork), and I managed to finish the entire plate.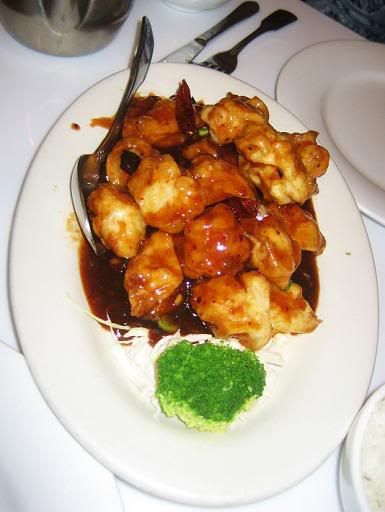 Marya had the Orange Chicken. It too was quite tasty.
Good place overall, including very friendly and attentive service. It should be noted that they also have a fantastic mixed drink menu, including the Flaming Volcano.