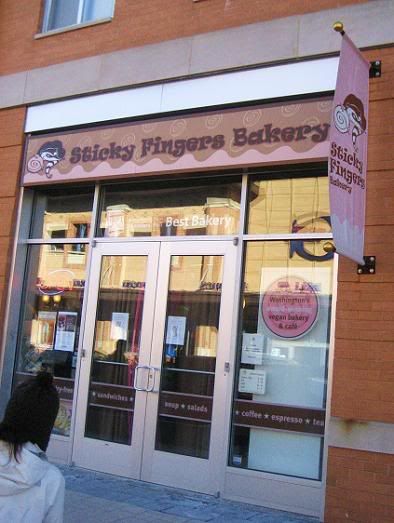 Sticky Fingers Bakery
1370 Park Rd Nw
Washington, DC
Sticky Fingers is a vegan bakery located in the heart of the Columbia Heights neighborhood, Washington, DC, just a block up from the Columbia Heights Metro. The place is legendary. Years ago when friends stopped in from Washington State to visit family in Virginia, they made a point to cross the river and come here to check out all their offerings. Since then, Sticky Fingers has moved and greatly expanded their eat-in facilities.
I often stop in on my way to the Metro to pick up a breakfast sammich, which is usually a bagel with fake egg, facon, cheeze, and a (real) tomato. Start your day off with one of these and...well, you'll probably want to go back for another as soon as you can. They also have vegan chili-cheeze dogs. Is that not cool?
Also - and this is
very important
to me - they serve fair trade coffee.
Other fun stuff about the place: they have a fun selection of "adult" cupcakes, including mojito and (around the holidays) egg(less)nog with a splash of bourbon.
They have some vegan grocery items, such as Daiya Cheese, Teese, nutritional yeast, vegan marshmallows, and Primal Strips jerky.
I got the brunch with biscuits and gravy. The other option is pancakes. They both include tofu scramble and roasted potatoes. There may have been more options than that, but memory fails.
It was all very tasty, but I have just a few minor complaints:
At $9.95, it's a bit expensive
The side of tempeh bacon wasn't worth the $1.50 for just 2 strips
It's cool that there's another place in DC where we can get a great vegan brunch, but it saddens me a bit when I can't get a bloody mary with it. Sticky Fingers doesn't have, and probably won't ever have a liquor license.
When I got up to get a refill of my fair trade coffee, I looked around at dishes others were eating. Someone else was eating some tasty looking noodle dish, and someone else was eating a plate of nachos that reminded me of my Taco Hell days and made me wish I had room to put an order of them down.